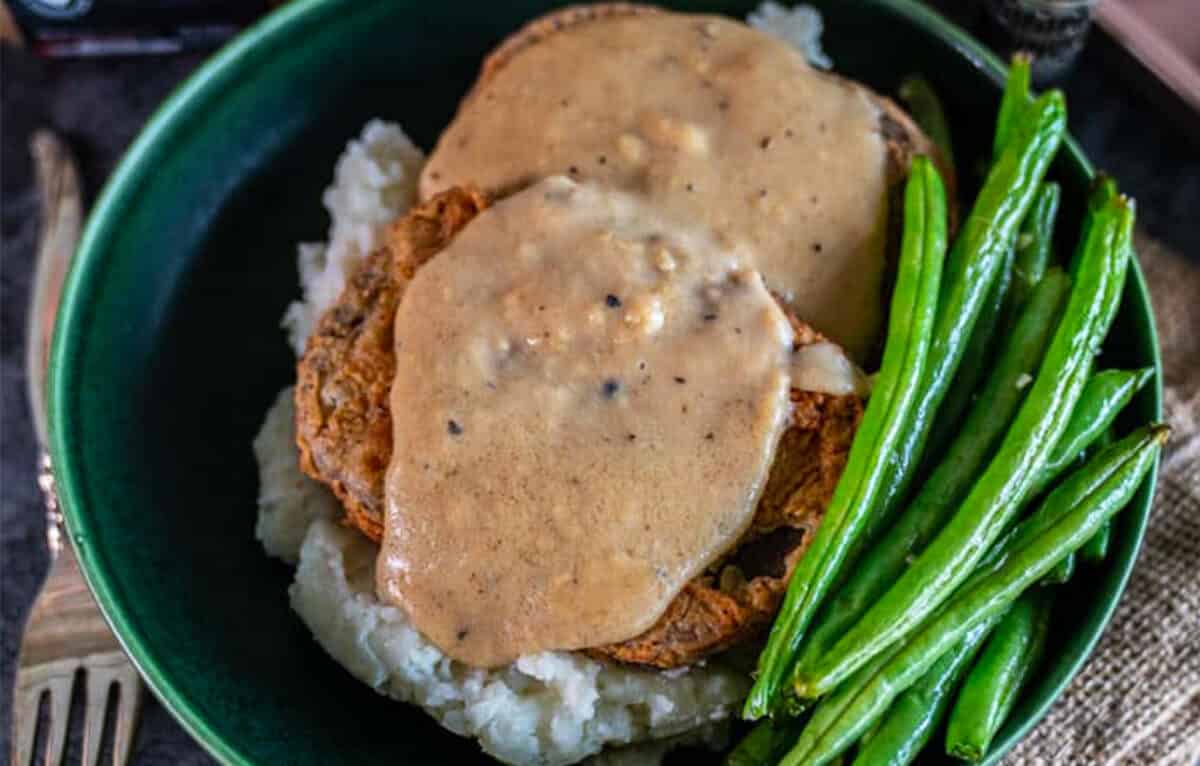 Ingredients
For the Fried Steak:
2 GUSTA Seitan Roast Classico loaves, sliced lengthwise into 8 small ½ inch thick "steaks"
6 tbsp aquafaba, whisked until foamy
½ cup unsweetened soy milk
2 cups all-purpose flour
¾ tsp baking soda
¾ tsp baking powder
2 tsp sea salt
1½ tsp garlic powder
½ tsp onion powder
¾ tsp paprika
¼ tsp cayenne pepper
½ tsp black pepper
Oil (Canola, Coconut or Avocado)
For the Country Gravy:
¼ cup vegan butter or margarine
3 tbsp unbleached all-purpose flour
1 tsp garlic powder
2½ cups unsweetened soy milk
½ no-beef bouillon cube, crumbled
Lots of black pepper
Prep
For the Fried Steak Seitan:
In a shallow, wide dish; whisk together aquafaba and soy milk. Set aside.
In a second shallow, wide dish, whisk together; flour, baking soda, baking powder, salt, garlic powder, onion powder, paprika, cayenne pepper, and black pepper.
Working one at a time; dredge each Gusta seitan into the flour mixture, pressing the steak firmly into the flour on both sides.
Shake off the excess flour and then dip the seitan into the soy milk mixture.
Shake off the excess milk mixture, and then dredge the seitan in the flour, pressing the flour into both sides.
Place each coated seitan steak onto a wire cooling rack, and repeat with each steak. Let them sit for 10 mins.
Meanwhile, heat up enough oil in a large frying pan to cover the bottom by ¼ inch to 325F.
Working one at a time, place coated steak in hot oil. Gently spoon some of the oil over the steak, and then fry until you see the edges of the steak turn golden brown, roughly 2 mins. Then flip over, and fry for 2 more mins.
Remove seitan steak with metal tongs and allow excess oil to drip off. Place on a wire rack, and repeat with remaining seitan steaks.
For the Country Gravy:
In a deep pan, melt vegan butter over medium heat.
Whisk in 3 tbsp of flour, and garlic powder, and cook, whisking constantly for roughly 5 mins or until the flour browns. Do not burn.
Very slowly, whisk in milk and bouillon cube. Continue to whisk constantly to avoid lumping and burning, until the gravy thickens.
Taste as you go, and season with salt and lots of black pepper.
Add more or less soy milk depending on your desired thickness. If the gravy is too thick, add more soy milk. If it is too thin, cook it a bit longer, whisking constantly.
Serve chicken fried steak with country gravy and a side of mashed potatoes or green beans.
Stats
58%
Is the percentage of people in Canada who want to reduce their meat consumption in order to be healthier.
More fun facts!