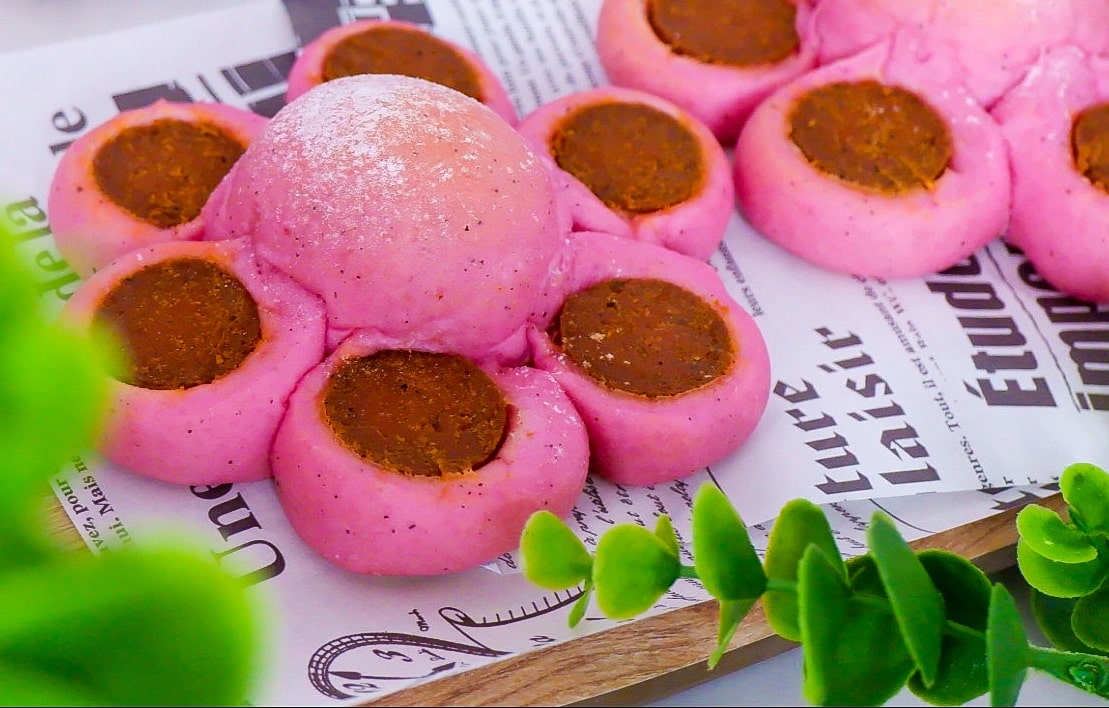 Ingredients
Primary Dough Ingredients
220 g plant-based milk

40 g sugar

1 g salt

20g pink dragonfruit (pitaya) powder

40g almond flour

325 g bread flour

5 g active yeast
Others
1 tbsp plant-based butter or olive oil

3 tbsp vegetarian mayonnaise or sandwich spread of choice
Prep
Using your kitchen mixer, bread machine, or by hand, combine primary dough ingredients to form a consistent dough

Add in oil and continue to work the dough until it passes the Windowpane Test (when you pull the dough, it stretches to form a window pane-thick layer prior to breaking).

Divide the dough into 10 equal parts

Lightly flour a working surface, dust your hands, and roll the dough into a rectangular shape

Knead 1 part into a smooth dough, and roll it into a rectangular shape

Place

Gusta Smoked Spices Sausage

on one side and roll it into a spring-roll like shape

Trim the side, and cut the roll into 6 pieces. Place them cross-section up, this will be the flower petals.

Knead another 1 part into a smooth ball, place in the center of the petal as the flower core.

Repeat for the remaining dough parts. 

Let the bread rise for 1.5hr or until double in size, lightly flour the top of the center dough. 

Bake in 325F oven for 16 min or until fully baked (use a toothpick and poke to see if it comes out clean). 

For full preservation of colour, you can bake the breads covered (extend the baking time to 18-20 min). 
Stats
73%
Is the amount of carbon you can reduce when you follow a vegan diet.
More fun facts!