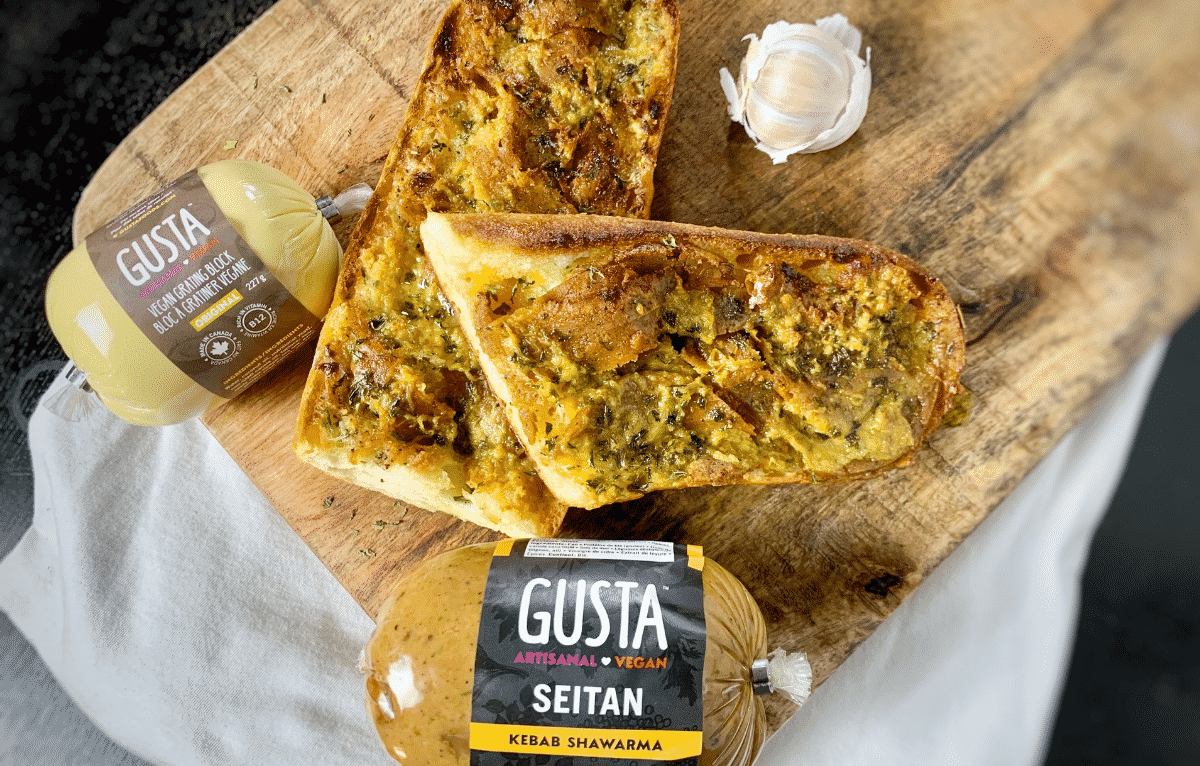 Ingredients
1 French baguette, about (115g)

1 whole garlic head, about 48g

5 tsp (25 ml) extra virgin olive oil

1 tbsp (30g) vegan butter

1/8 tsp salt

1⁄4 tsp black pepper

1⁄4 tsp of dry rosemary

70g shredded GUSTA Original cheese

60g of thinly sliced GUSTA Kebab Shawarma

1 tsp of dry parsley flakes
Prep
Preheat the oven to 450

°

Fahrenheit (230

°

Celsius)

Peel and discard the papery outer layers of the whole garlic bulb. *Leave intact the skins of the individual cloves of garlic

Cut 1/4 to a 1/2 inch from the top of cloves. This will expose the individual cloves of garlic.

Place the garlic cut side up on a piece of thin foil and drizzle 2 tsp of olive oil on top of the cloves. Trap the garlic in the foil and place it in the oven for 35 minutes. Once done, remove the garlic cloves from its shells.

Place the cloves in a small bowl and mash them with a fork until smooth. Add 1 tsp olive oil, the vegan butter, salt, pepper and dry rosemary. Mix everything together until smooth.

Cut the baguette in half, lengthwise. Spread an even amount of garlic butter on the bread surfaces. Lay an even amount of GUSTA shredded Kebab Shawarma and GUSTA shredded Original cheese on top of both pieces on bread along with parsley flakes and 2 tsp of olive oil.

Place the bread on a lined baking tray, then bake for 15 minutes at 350

°

F.