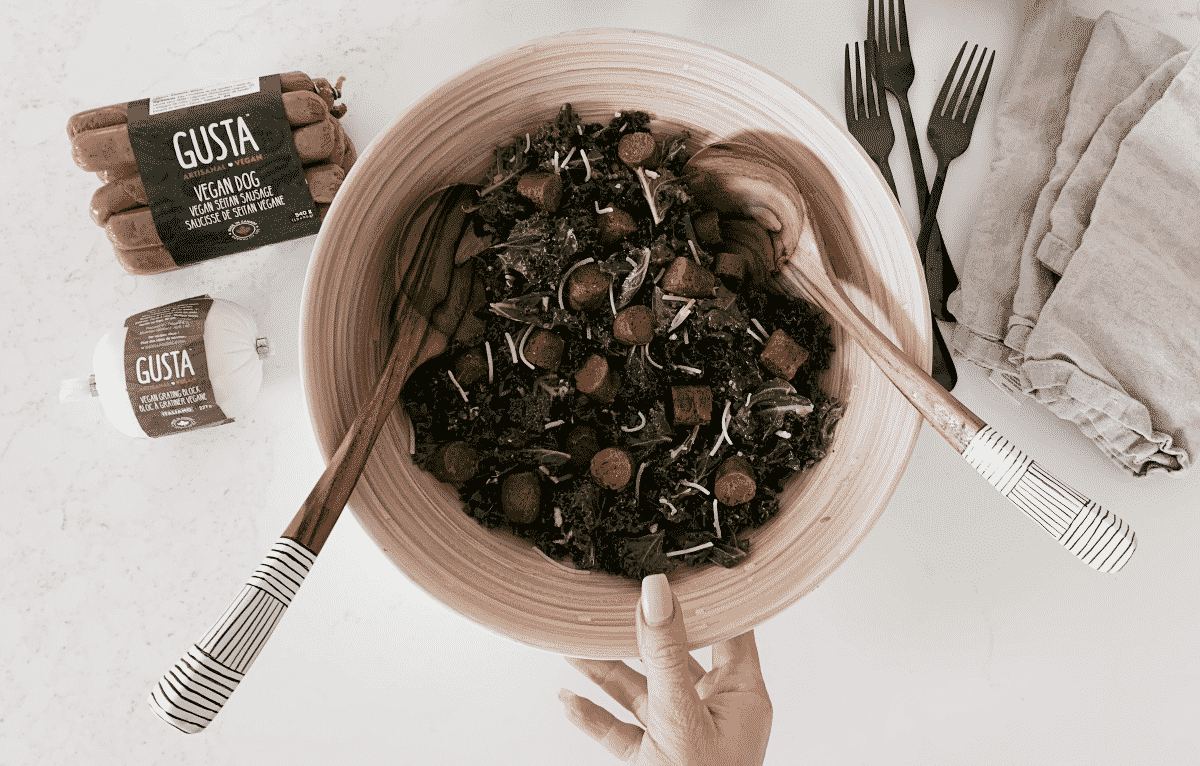 Ingredients
2-3 GUSTA Vegan Dogs, chopped up into rounds 
⅓ cup of GUSTA Mozzarella Style Cheese

 

Two bunches of kale 

1 tbsp olive oil 

Vegan caesar dressing 

1-2 tbsp nutritional yeast 

Dash of paprika 

Salt and pepper, for seasoning 

2 tbsp hemp hearts (optional)
Prep
Rinse kale, and remove stems. Chop or break kale into bite size pieces. Place into a salad bowl. 

Add 1 tbsp (or more) of olive oil to chopped kale, and massage oil into kale to absorb. Set aside. 

Heat frying pan on medium low heat, and add GUSTA Vegan Dogs. Cook for 3-5 minutes, until desired temperature. Set aside.

Add nutritional yeast, paprika, salt and pepper, GUSTA Mozzarella Style Cheese, and hemp hearts (if using). Toss all together with the kale. 

Chop GUSTA Vegan Dogs into small rounds, and toss into salad. 

Lastly, add vegan caesar dressing. Toss all together. Serve with freshly cracked pepper and a squeeze of fresh lemon (if desired). Enjoy!
Stats
8
The water consumption required for 1 kg of beef is 8 times higher than for 1 kg of wheat.
More fun facts!