Gustarium
11 May 2020
Cendrine Browne: Her GUSTA ravioli recipe
GUSTA is proud to support local vegan Athletes. It was therefore natural to sponsor Cendrine Browne. Canadian Olympic cross-country skier, vegetarian for 1 year and newly vegan, she proudly wears our colors since last November.
Young, dynamic and talented, today she presents her vegan ravioli recipe featuring our sausages.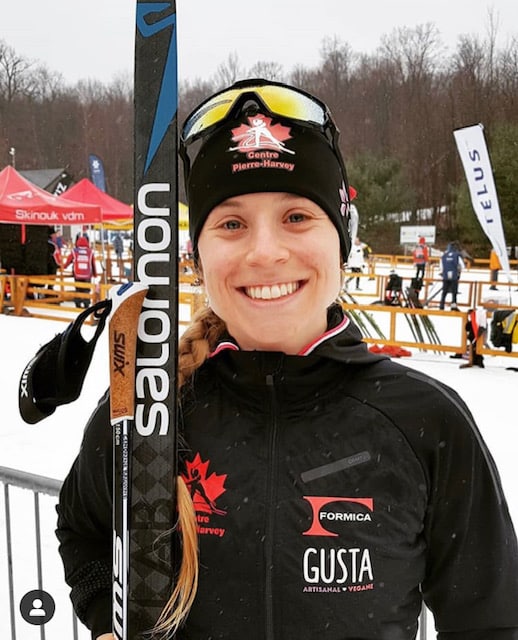 It has only been a few months since I partnered with GUSTA but I am already in love with their products and their values. I am so happy I get to represent a company with whom I share so much. On top of that, thanks to their products, being vegan has never been this easy! I wanted to create a recipe that was easy to customize and for which you can easily use what you have on hand. This recipe is very easy to make and is also a fun project to do with the kids during the quarantine!

Cendrine Browne http://cendrinebrowne.mli.st/
GUSTA ravioli recipe
For this recipe, use what you have on hand and be creative!
Servings: 4 to 5
Gives: +/- 30 raviolis
Prep time: 30 mi
Assembling the ravioli: 15 min
Cook time: 12 min
Ingredients:
Dough:

2 ½ cups of flour (it is possible to use gluten free flour)
4 flax eggs (For 1 egg: 1 tb spoon of ground flax seeds for 2 tb spoons of water. Mix flax and water and let sit for 5 minutes)
1 pinch of salt
1 splash of cold water

Filing:

2 Gusta sausages of your choice (for me: Italiana)
vegetable(s) of your choice (eg. mushrooms, spinach, squash)
fine herbs of your choice, fresh or dried (eg. basil, thym, cilantro)
½ onion (optional)

Topping:
Instructions:
Making the dough:

Add the 2 ½ cups of flour to a food processor, the 4 flax eggs and the pinch of salt.
Pulse. Add a splash a cold water and continue to pulse until the dough forms a big ball. The dough must not be too sticky. If it is, add a bit of flour.
Place your dough on a clean and floured surface.
Knead the dough for a few minutes and make sure it is not too sticky.
Cut the dough into 4 equal parts. It'll be easier to work the dough this way.
Cover the dough with a cloth so it doesn't dry out and set it aside while you prep for Step 2.

Making the filing:

Cook the chosen vegetables (for example, sauté the mushrooms and onion). If you chose to use squash, it's now time to take it out of the oven and to scoop out its flesh.
Add to the food processor the Gusta sausages, the cooked vegetables and the spices and/or herbs.
Pulse until wanted texture.

Making the ravioli:

Bring a big pan of water to boil.
On a floured surface, roll one of your four parts of dough
With a rolling pin (or a bottle if you don't have one). The dough must be rolled very thin (2-3 mm in thickness)
On the rolled out dough, use a biscuit cutter (or a round glass) to cut out your ravioli. Repeat.
On half of the circles, add half a spoon of filing.
Top off the circles with filing with the other half of the dough circles.
Bring the edges of the circles together with a fork.
Repeat with the remaining dough and filing. Use the scraps of dough not to waste them. *At this point, you can freeze the fresh pasta for further use. 
Transfer the ravioli into the boiling water and cook for 12 minutes. Do not overflow the pan. Cook in small batches if you have a small pan.
When cooked, take the ravioli out of the boiling water with a slotted spoon.

To serve:

Serve the ravioli with any sauce you have on hand and with your favorite Gusta cheese. Top off with fresh parsley.
BON APPÉTIT!