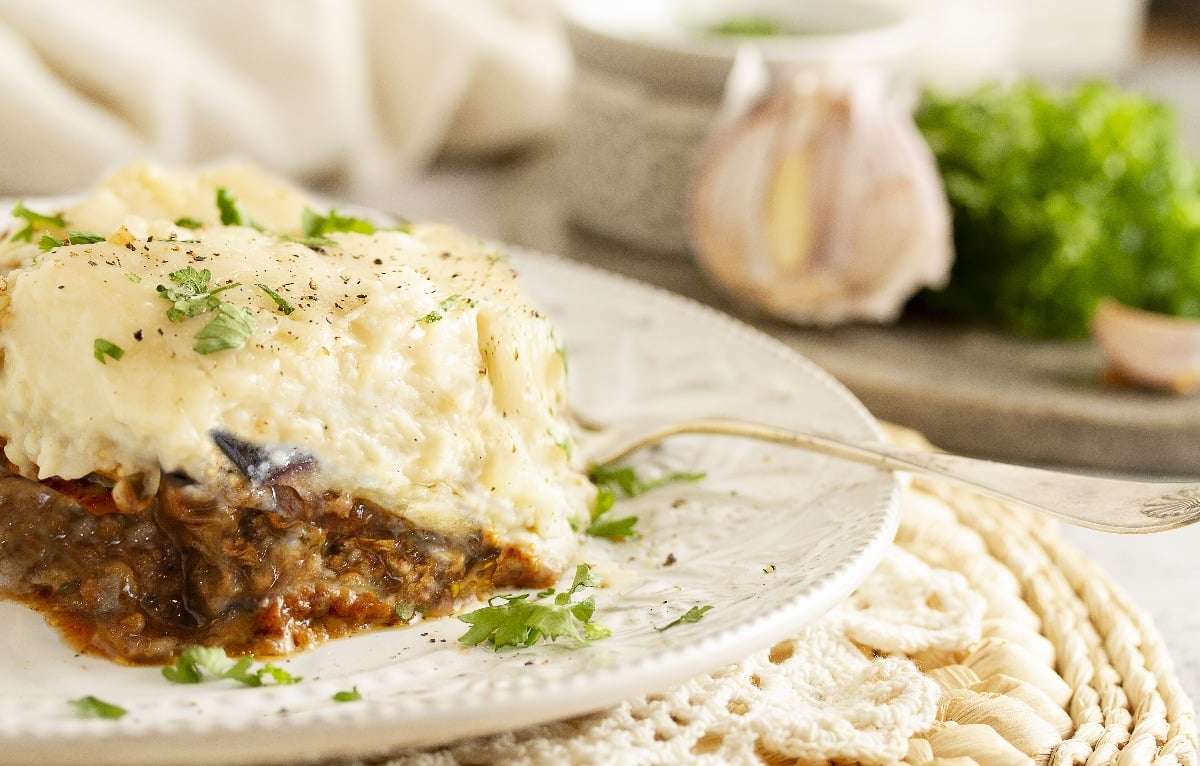 Ingredients
GUSTA Ground Layer
1 tbsp Olive Oil

½ yellow Onion, finely diced

2 cloves of Garlic, pressed

350g GUSTA Original Veggie Ground

1 tbsp Tomato Paste

¼ cup (120ml) Dry Red Wine (can sub with vegetable stock)

¼ cup finely chopped Fresh Parsley, plus extra to serve

1 tbsp Fresh Thyme Leaves

½ cup (120ml) Tomato Purée

½ cup (120ml) vegetable Stock

1 large Bay Leaf

1 tsp Salt, or to taste

½ tsp Cinnamon

¼ tsp Black Pepper, or to taste
Béchamel Sauce
½ cup vegan Unsalted Butter

1 cup all-purpose flour

4 cups (1 litre) Almond Milk, at room temp

1 cup (80g) freshly grated GUSTA Mozzarella Style cheese, plus extra to serve

1/2 tsp Salt, or to taste

1/4 tsp ground nutmeg

1/2 tsp agar
Veg Layer
2 Eggplants/Aubergine, sliced lengthwise 1/3" thickness

Vegetable oil enough to cover eggplant in the pan (should have 2 inches)

F

ew pinches of Parsley (to sprinkle in between layers)

Salt & Pepper, as needed
Prep
Ground GUSTA Layer 
Heat 1 tbsp olive oil in a large pan or pot over medium heat. Add onion and fry until it softens, then add in garlic and cook for an extra 1-2 min. Add in Ground GUSTA and break up with a wooden spoon until fully browned (5 min). 

Stir in tomato paste and wine and simmer for 2 min. Deglaze the pan if needed, then pour in tomato paste and vegetable stock. Add in parsley, thyme, cinnamon, salt, pepper & bay leaf and give it a good stir. Keep on a gentle simmer for around 30mins, stirring occasionally until thick. 
Veg Layer
Sprinkle a pinch of salt on both sides of the eggplant. In a large high edged frying pan, add enough oil to fry one eggplant at a time.

Heat oil to 340

°

F (170°C) and cook the eggplants one at a time until lightly golden on each side. Let them rest on paper towels on each side.
Bechamel Sauce
In a saucepan over medium-low heat, melt vegan butter. Stir in flour to create a paste then gradually begin whisking in your almond milk. Once you've poured in all the milk and the sauce is thick, stir in salt and nutmeg. 

Take off the heat and add the agar to the sauce and stir until well combined.

Take 1/2 cup of the sauce and stir it into the ground GUSTA.
Assembly
Add 2 layers of eggplant to the baking dish and sprinkle over a hefty pinch of parsley, salt & pepper. Spread over the Ground GUSTA layer, top with the rest of your eggplant then top with the Béchamel sauce and finish with Mozzarella Style GUSTA Cheese.

Place baking dish in the oven at 180˚C/350˚F for 35-45mins, or until golden on top. Let rest 15 mins. Sprinkle some more parsley on top and serve.
Stats
80%
Is the percentage of antibiotics sold in the United States used for livestock.
More fun facts!