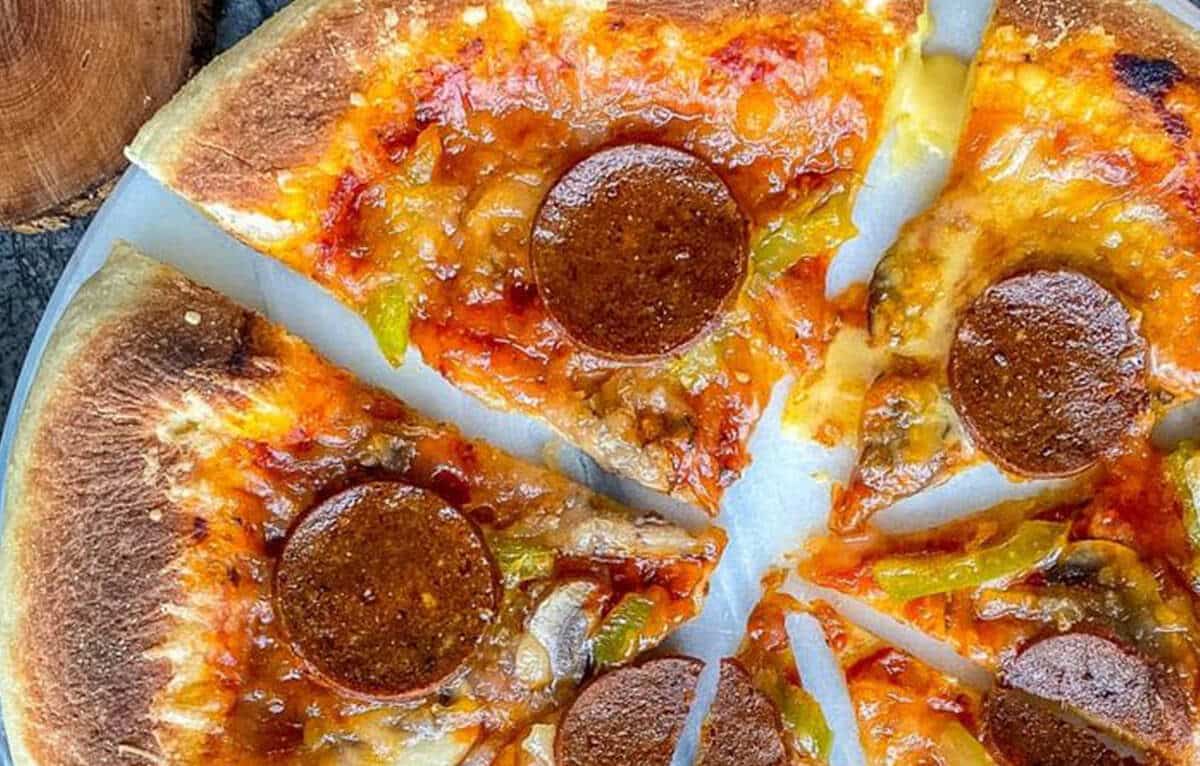 Ingredients
For the Pizza Hut Style Sauce:
6-oz can tomato paste
1⅓ cups water
¼ tsp dried basil
¼ tsp dried thyme
¼ tsp dried rosemary
¼ tsp onion powder
½ tsp dried oregano
¼ tsp garlic powder
ground black pepper, to taste
1 tsp lemon juice
¼ tsp sea salt
For the Pizza:
Dough (or store-bought pizza dough)
8oz GUSTA Original cheese, cut into string cheese-like strips
1½ cups grated GUSTA Mozzarella Style cheese
flour for rolling
olive oil& cornmeal for the pizza pan
GUSTA Pizzaroni slices
sliced mushrooms
sliced green peppers... and anything else you want on your pizza!
Prep
Take the dough out
Prepare your sauce. In a small saucepan over medium heat, add all ingredients and bring to a boil. Reduce to a simmer, cover, and cook for 10-15 mins. Remove from heat & set aside.
Preheat your oven to 475F with the pizza stone in it, and grease your pizza pan, or cake pan, and sprinkle with cornmeal to prevent the pizza from sticking.
On a floured surface, roll out your dough a bit larger than your selected pan.
Score the rolled out dough several times with a fork. This will prevent it from bubbling up when baked.
Put the dough on a pizza pan, letting it drape over the edge.
Place the GUSTA Original cheese sticks, end to end, around the edge of the dough. Wet your fingers, and moisten the outer edge of the dough, all of the way around. This will act as a glue to hold the folded-over dough. Fold the dough up and over the cheese sticks and press it down onto itself to seal tightly.
Lightly brush the top of the folded dough edge with non-dairy butter spray, butter flavoured coconut oil or olive oil.
Now top your pizza! Spread your dough with some of the sauce (make sure to spread the sauce on top of the folded seam to hide it), then top with your desired veggie toppings, and sprinkle with GUSTA Mozzarella Style shredded cheese.
Top with meat-free pepperoni and bake the pizza for 8-12 mins depending on your oven. Make sure to place the pizza or cake pan directly on top of the pizza stone.
When the cheese has melted and the pizza crust is golden brown, remove the pizza from the pan and place it directly onto the pizza stone for 2 mins to toast the bottom. Slice and serve!
Stats
10%
Is the percentage of Canadians who call themselves vegan or vegetarian.
More fun facts!