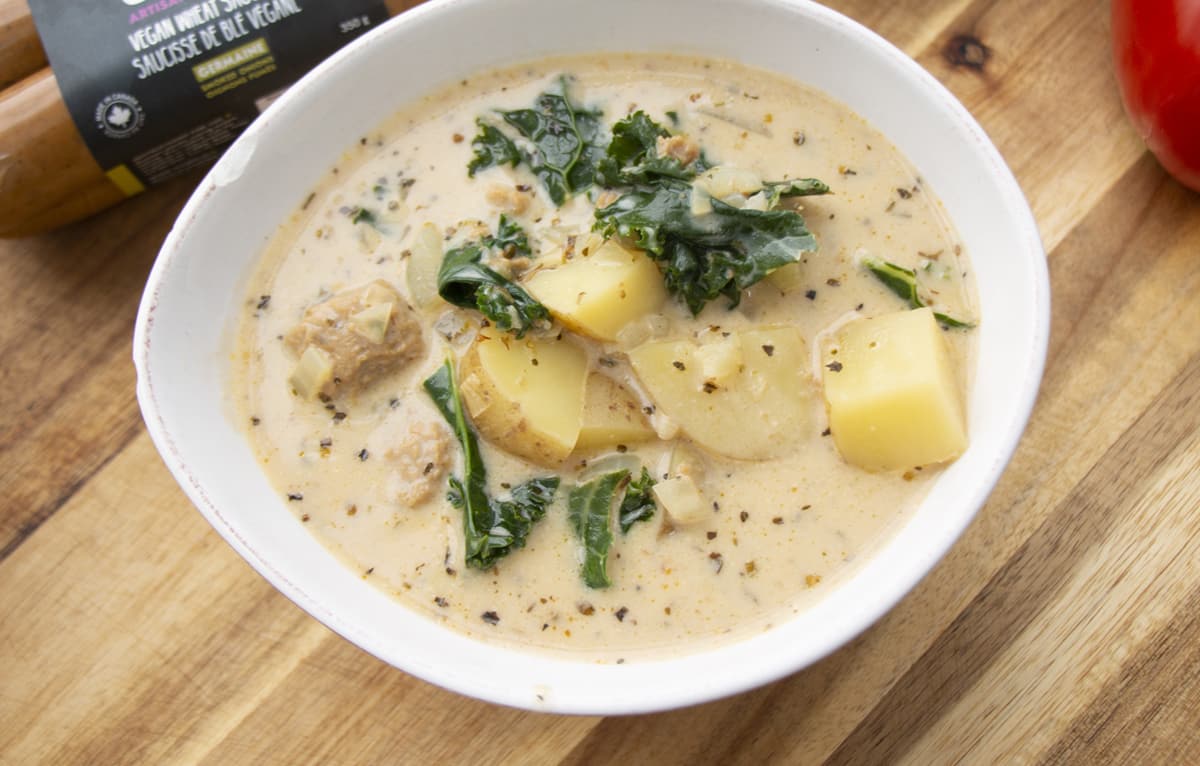 Ingredients
For the soup:
2 tbsp olive oil
4 GUSTA Smoked Onions sausages
1 chopped onion
4 garlic cloves, minced
1 tbsp dried basil
1 tbsp dried oregano
1/2 tsp dried thyme
4 cups yellow-fleshed potatoes, diced (550 g)
6 cups vegetable broth (1.5 liters)
4 cups of kale, cut into bite-size pieces (50 g)
For the cashew cream:
1 cup of cashews (120 g)
1 cup of water (250 ml)
2 tbsp nutritional yeast
Prep
Heat the olive oil in a saucepan. Add in the vegan sausage.
Use a spatula to break up the sausage and sauté for 4 minutes.
Add the onion and garlic and sauté, over medium heat, for 4 minutes, stirring frequently.
Add the dried basil, dried oregano, thyme, diced potatoes, and vegetable broth.
Bring to a boil, reduce the heat and simmer on medium heat for 20 minutes.
Soak the cashews in boiling water for 10 min. Drain them.
Add a cup of water, cashew andnutritional yeast to the blender.
Blend on high until smooth.
Add the cashew cream and the kale and simmer for 10 more minutes.
Stats
20
Is the amount of kilos of grains saved each day with a vegan diet.
More fun facts!