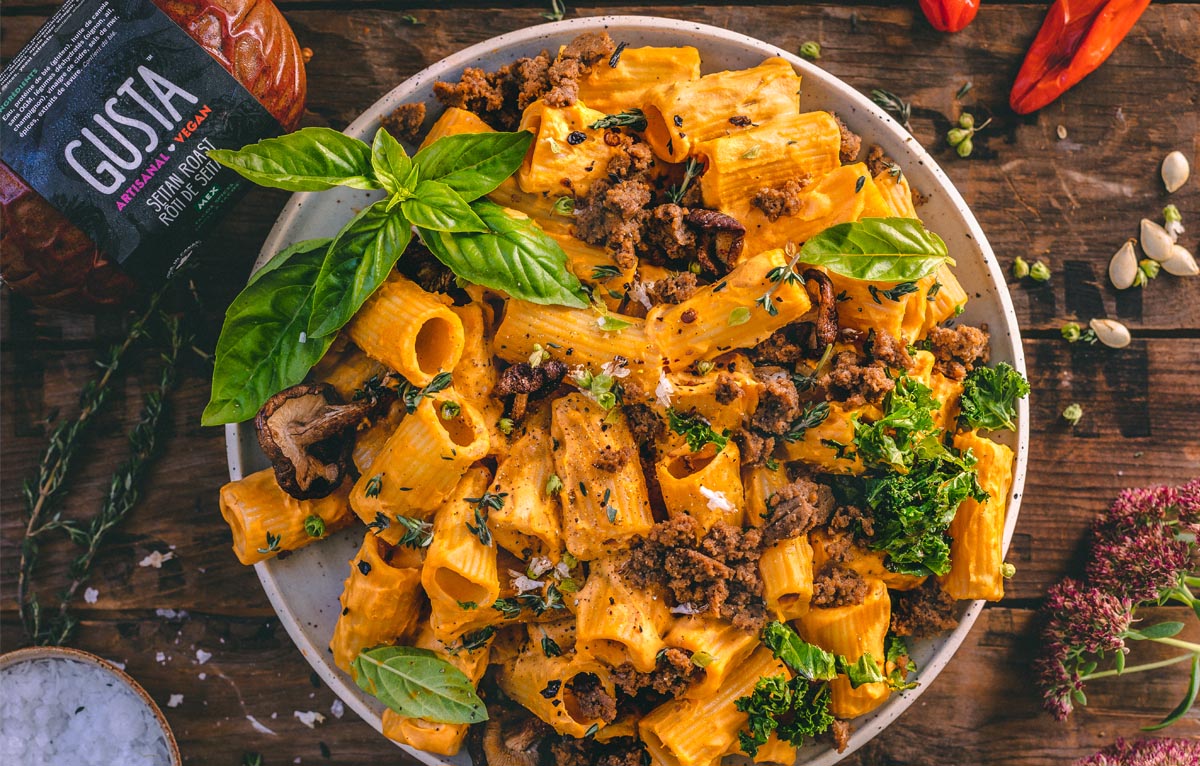 Ingredients
2 large roasted peppers
2 Tablespoons of olive oil plus more for roasting pumpkin
1 tablespoon of garlic paste
1 cup of cashews (soaked over night)
1 small onion, diced
1 vegetable cube
1 tsp onion powder
1 tablespoon garlic powder
2 bay leaves
1/4 cup residue water from boiling pasta
1 and half cup of pasta of your choice
2 cups of pumpkin
3 tablespoons of tomato puree
1 tablespoon of lemon juice
1/4 tsp of paprika powder
1 tsp of dried parsley flakes
1 GUSTA Classico seitan roast, crumbled
Salt
Prep
Cut your pumpkin in half, lightly spread some olive oil over top. Roast your pumpkin for 1 hour at 380F.
Deseed your pepper and roast in a separate pan beside the pumpkin for 20 minutes.
Sautee your onion for 2 minutes, until translucent.
Add in your vegetable cube, garlic powder and paste, onion powder, 2 bay leaves, salt, lemon juice, tomato puree, paprika and parsley flakes. Sautee for 5 minutes or until very fragrant.
Remove pumpkin from oven and once cooled, measure 2 cups.
Add drained and rinsed cashews into the blender, along with your onion mixture, pumpkin puree and roasted peppers into a high-speed blender and blend for 1 minute.
Place back into the pan and cook for 2-3 minutes. Add vegan parmesan or pine nuts to garnish.
Boil your pasta and keep some reservoir water for the sauce.
Add your pasta in the pan and mix well with all other ingredients.
Finally, add the crumbled seitan roast and enjoy it!
Stats
20
Is the amount of kilos of grains saved each day with a vegan diet.
More fun facts!