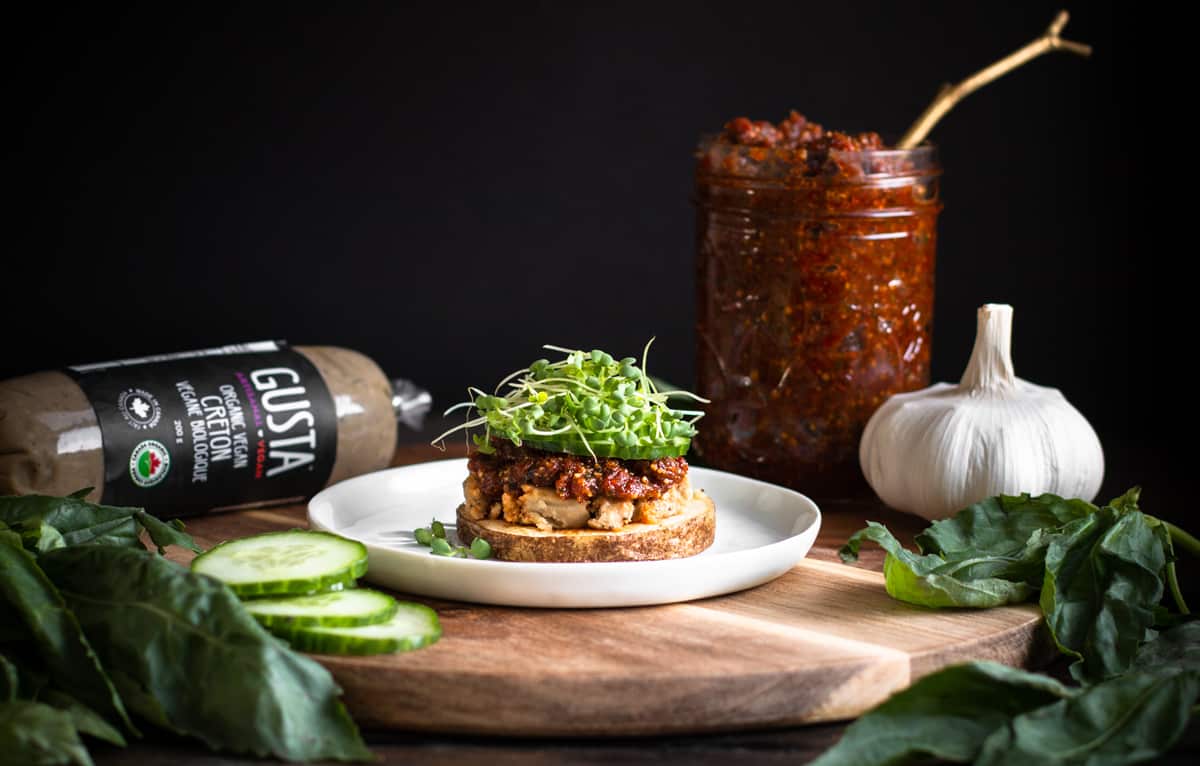 Ingredients
2 large russet potatoes
1 tablespoon extra-virgin olive oil
Fine grain sea salt and ground black pepper,  to taste
2 Gusta Vegan Creton
1 English cucumber, thinly sliced
2 cups sprouts or microgreens, for topping
For the Sun-Dried Tomato Pesto:
½ cup walnuts, roughly chopped
1 jar (210ml) sun-dried tomatoes
½ cup fresh basil leaves
2 large garlic cloves
1 tablespoon nutritional yeast
¼ cup extra-virgin olive oil
2 tablespoons lemon juice (optional)
1/8 teaspoon fine grain sea salt
Ground black pepper, to taste
Prep
Preheat the oven to 350° Spread the chopped walnuts on a small baking sheet and toast them in the oven for 8 minutes or until fragrant.
Meanwhile, slice the potatoes into ½-inch thick slices. Place them on a large baking sheet and drizzle with 1 tablespoon of olive oil. Toss to coat evenly and spread the slices into a single layer on the baking sheet. Sprinkle with salt and pepper. Set aside.
Once the walnuts are toasted, remove them from the oven and increase the temperature to 400°
Place the potato slices in the oven and roast them for 25-30 minutes or until lightly golden and crispy.
While the potatoes are roasting, prepare the pesto: Add all the pesto ingredients including the toasted walnuts to a food processor. Do not drain the sun-dried tomatoes.
Process until mostly smooth. Stop and scrape the sides as needed. Taste the pesto and add more lemon juice, salt or pepper if desired.
Assemble the potatoes: Top each potato with 1 heaping tablespoon of creton and pesto.
Serve with 1-2 slices of cucumbers for a crunch and sprouts. Enjoy!
Stats
20
Is the amount of kilos of grains saved each day with a vegan diet.
More fun facts!