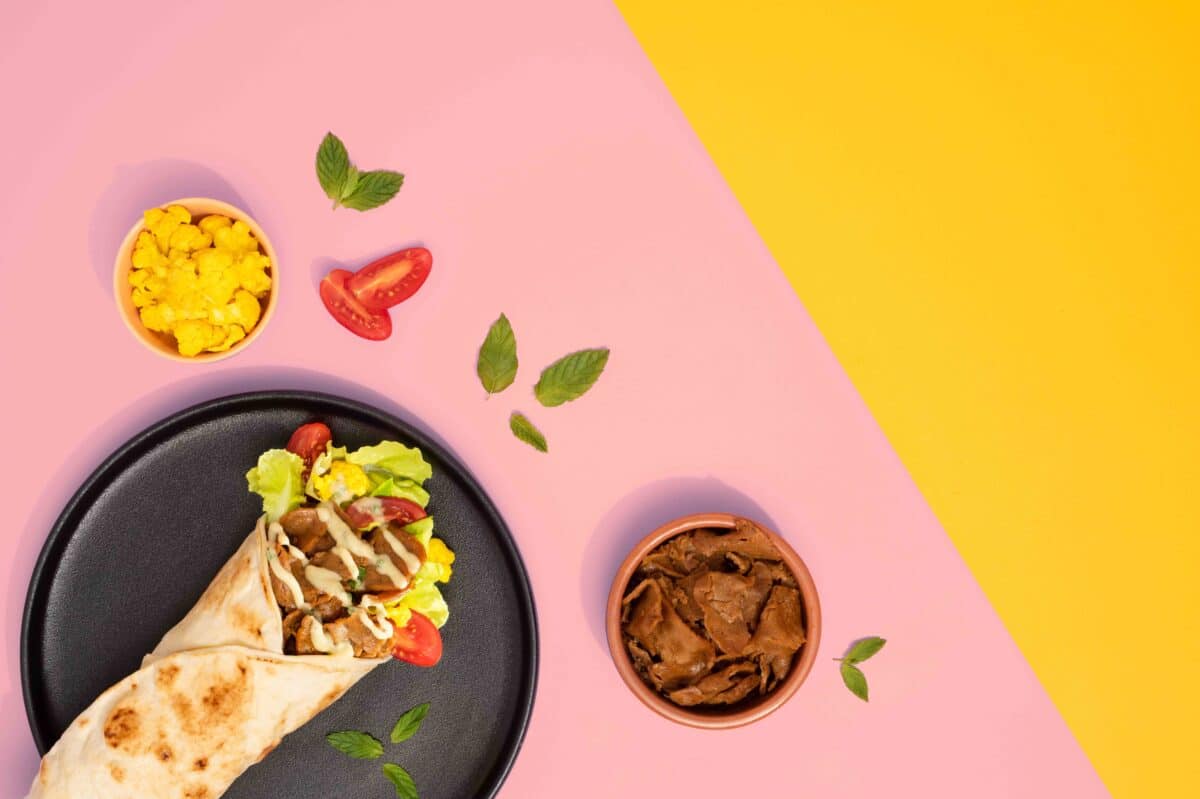 Ingredients
4 pita breads or 9-inch tortillas
2 packs of sliced veggie kebab GUSTA
1 medium tomato, chopped
1 small red onion, thinly sliced
Greens of your choice (Iceberg lettuce, arugula, kale, leaf lettuce, Boston lettuce ...)
For the express pickles:
1 cup cauliflower in small pieces
1/2 cup water
1/2 cup of cider vinegar
1/3 cup of sugar
1 tbsp turmeric powder
1 tsp salt
For the aïoli sauce:
1 cup white beans, rinsed and drained
1/4 cup unsweetened oat milk
15 mL cider vinegar
1 tbsp of Dijon mustard
10 mL maple syrup
1 clove of garlic, finely chopped
1/3 cup of olive oil
 A little chopped fresh mint
 Salt and pepper
Prep
Prepare the pickles: Place the cauliflower pieces and turmeric in a 500 ml container. In a pot, heat water, vinegar, sugar and salt.
Bring to a boil, pour over cauliflower and let stand until recipe is to finish the recipe.
Prepare the sauce: Mix together the white beans, vegetable milk, water, cider vinegar, mustard, maple syrup and garlic.
Using a blender, puree all ingredients and gradually blend in the oil gradually add the oil, blending gently.
Season the sauce with salt and pepper, add the fresh mint and set aside in the fridge.
Heat the seitan in a frying pan for about 4 minutes over medium-low heat.
Top the pita breads generously with the GUSTA veggie kebab.
Stats
58%
Is the percentage of people in Canada who want to reduce their meat consumption in order to be healthier.
More fun facts!