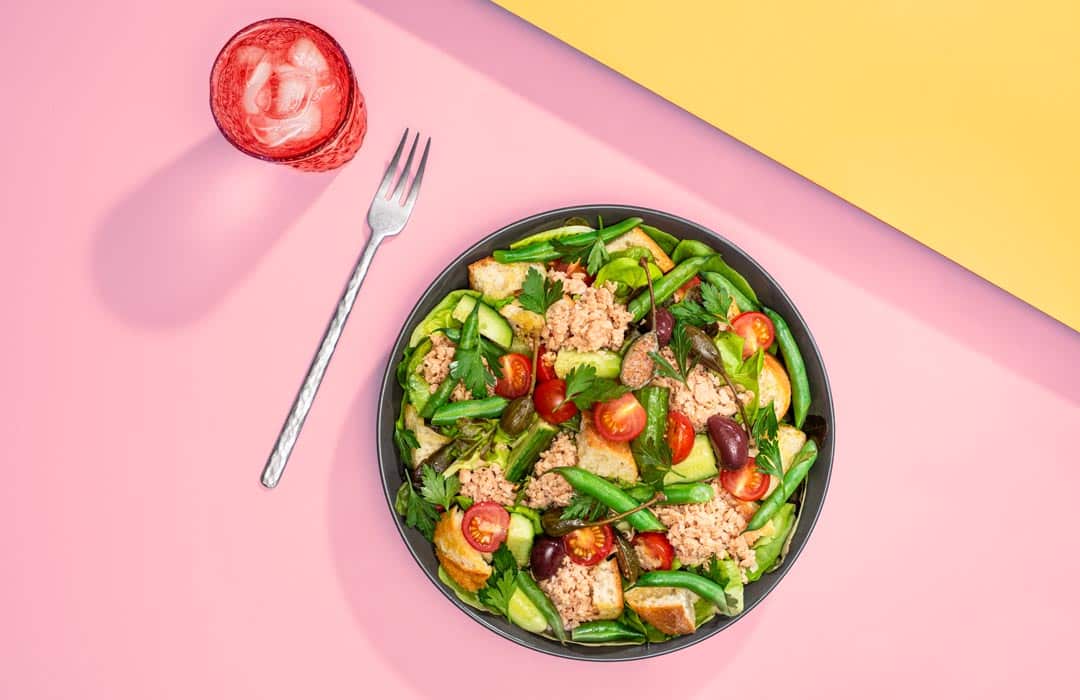 Ingredients
½ packet of GUSTA fish free tuna 
For the dressing:
1/3 cup (80 ml) olive oil

2 tbsp (30 ml) white wine or white balsamic vinegar

2 tsp (10 ml) Dijon mustard

½ French shallot, finely chopped
For the croutons:
1/3 French baguette, cut into large cubes

1 tbsp (15 ml) olive oil

Salt
For the salad:
A dozen green beans 

2 large handfuls of mesclun lettuce

1 Lebanese cucumber, diced

8 cherry tomatoes, halved

¼ cup (60 ml) sliced black olives

Italian parsley, to taste

Marinated capers, to taste, or 1 tsp. small capers
Prep
For the dressing: Put all the ingredients in a glass. Close and mix vigorously. Set aside at room temperature.
For the croutons: Preheat oven to 400°F (200°C). Spread baguette cubes on a baking sheet. Drizzle with olive oil and toss well to distribute. Season with a large pinch of salt. Place in the oven for 8 minutes, stirring halfway through, or until the croutons are lightly browned.
For the salad: If desired, blanch the green beans in boiling salted water for 1 minute to soften. Drain and transfer to ice water to stop cooking. Drain and dry the green beans well, then cut them into sections.

In a large salad bowl, combine the green beans, mesclun lettuce, cucumber, cherry tomatoes, olives, and Italian parsley. Pour 2 tbsp (30 ml) of the dressing over the salad and toss well to distribute. Season with salt and pepper. Add croutons and toss again.

Top with the vegetable tuna and marinated capers. Drizzle additional dressing over each serving and serve.