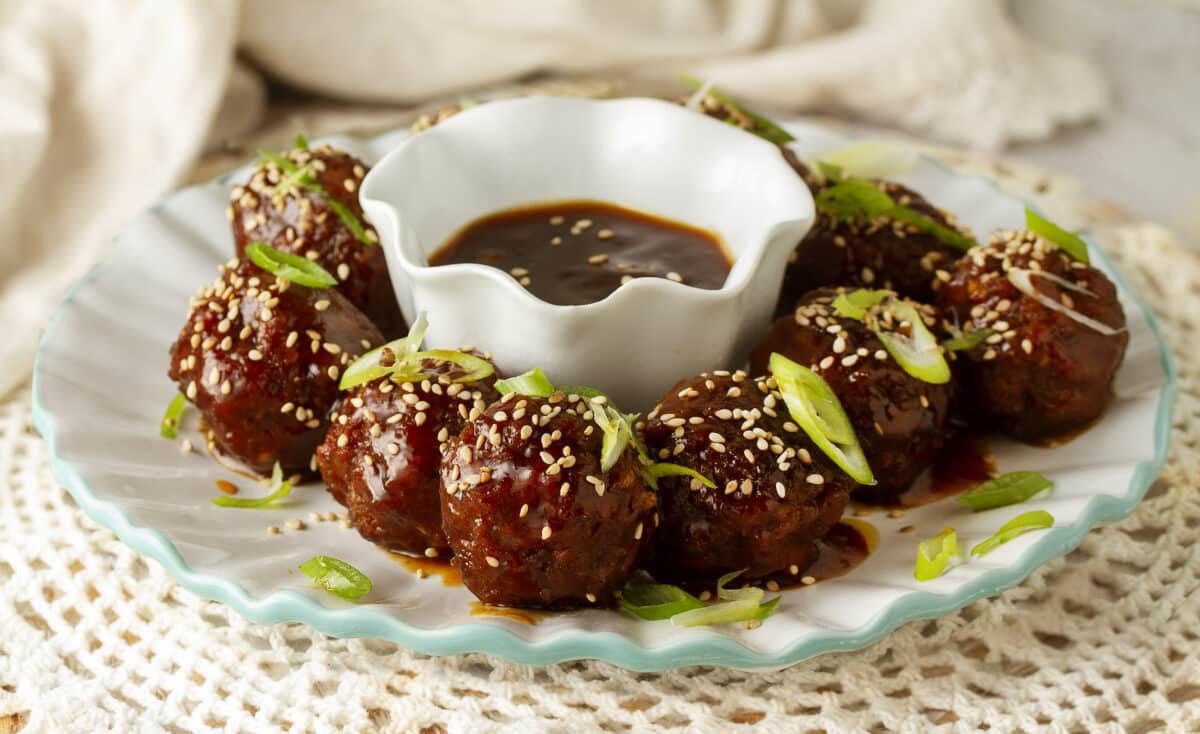 Ingredients
MEATBALLS:
350g GUSTA Original Veggie Ground

1/3 cup breadcrumbs

1 cloves garlic, minced

1 tsp soy sauce

1 tbsp cooking Sake 

Pinch salt and pepper, to taste
TERIYAKI SAUCE:
1 tsp sesame oil

1 cloves garlic, minced (or 2 teaspoons)

3 tbsp teriyaki sauce

2 tbsp mirin

2 tbsp sake

2 tbsp brown sugar

1/4 cup water

2 tsp cornstarch mixed with 1 tbsp of water

1 tsp Sriracha or more (adjust to your spice preference)
TO SERVE:
Sesame seeds

1 green onion finely sliced
Prep
Meatballs:
Preheat oven to 200°C (400°F). Line a baking sheet or tray with parchment paper.

Mix together all of the meatball ingredients in a large bowl until well-combined. To make the meatballs, spoon out 1 ½ inch of meat mixture and roll into balls of 1 ½ inches. Place onto the baking sheet or tray.

Bake for 15 minutes, or until golden-brown.
Teriyaki Sauce:
Make a slurry with water and cornstarch and whisk until chunks are dissolved. 

In a sauce pan, mix sauce ingredients (except cornstarch slurry) until well incorporated. Bring to a simmer over a medium heat, mix the cornstarch mixture in and give it a quick good mix until it dissolves into the sauce. Continue cooking until sauce thickens, while stirring occasionally to prevent burning or sticking on the bottom of the pan (about 5 minutes).

When meatballs have finished cooking, pour 3/4 of the sauce over them and toss gently to evenly coat.
Presentation
Transfer the glazed meatballs to a serving dish or tray. Sprinkle with sesame seeds and sliced green onions (if desired). Serve warm with toothpicks or mini forks, and with remaining sauce for dipping.
Stats
+300%
Is the amount of the rising American vegan population in the last 3 years.
More fun facts!