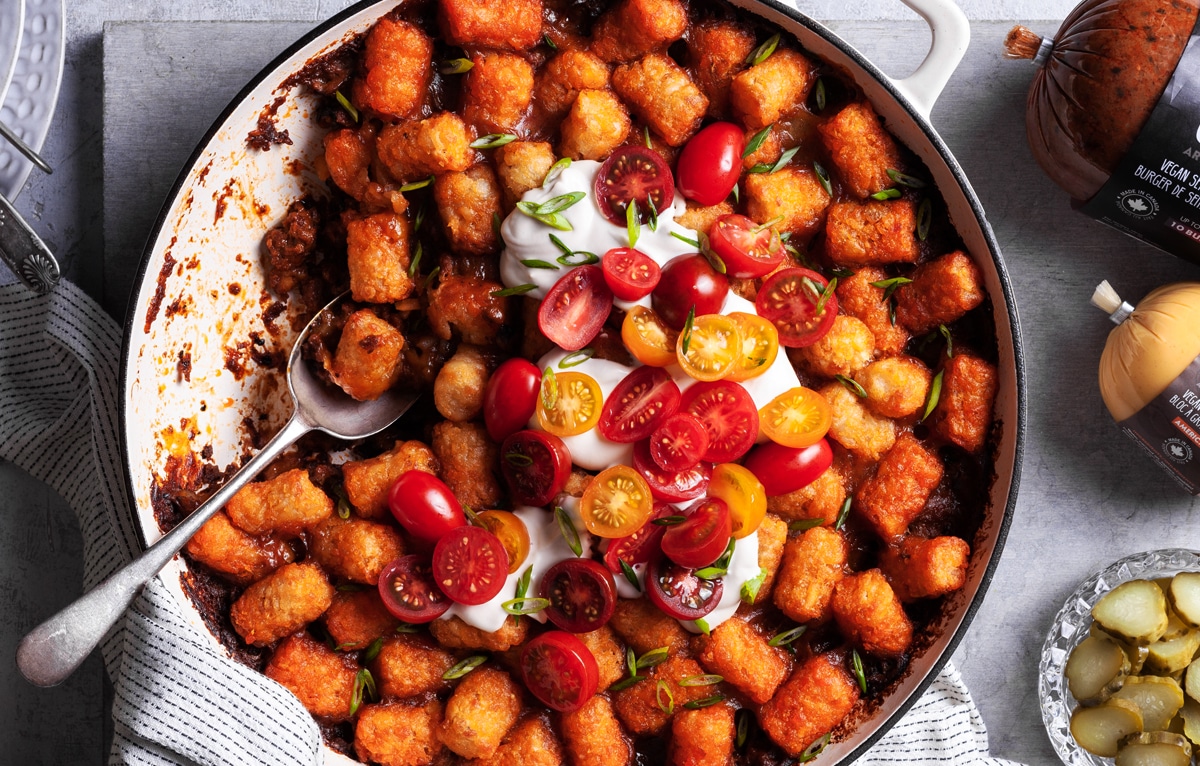 Ingredients
4 tbsp vegetable oil
220 g mushrooms, diced
1 medium brown onion, diced
3 garlic cloves, minced
1 GUSTA Vegan Seitan Burger, crumbled
3 tbsp tomato paste
2 tbspsoy sauce
1 tbsp prepared mustard
2 tsp vegan Worcestershire sauce
3 tbsp all-purpose flour
1 tsp smoked paprika
½ tsp dried oregano
½ tsp ground white or black pepper
1 cup (250 ml) of water
1 cup (250 mL) plant milk
1 GUSTA Cheddar Style cheese, shredded
1½.lbs tater-tots
Prep
Preheat the oven to 450°F.
In a cast-iron skillet, heat the oil. Add the onions, mushrooms, and garlic. Cook for 7 to 10 minutes.
Add in the crumbled GUSTA Seitan Burger, tomato paste, soy sauce, mustard, and Worcestershire sauce. Stir well.
Sprinkle in the flour, paprika, oregano, and pepper. Stir well.
Add the water and milk, stirring well and bring to a simmer.
Turn off the heat, level out the filling, sprinkle with the GUSTA Cheddar Style cheese and arrange the tater-tots on the top.
Bake for 30 minutes or until crispy on top and bubbling in the center.  Serve.
Stats
10%
Is the percentage of Canadians who call themselves vegan or vegetarian.
More fun facts!