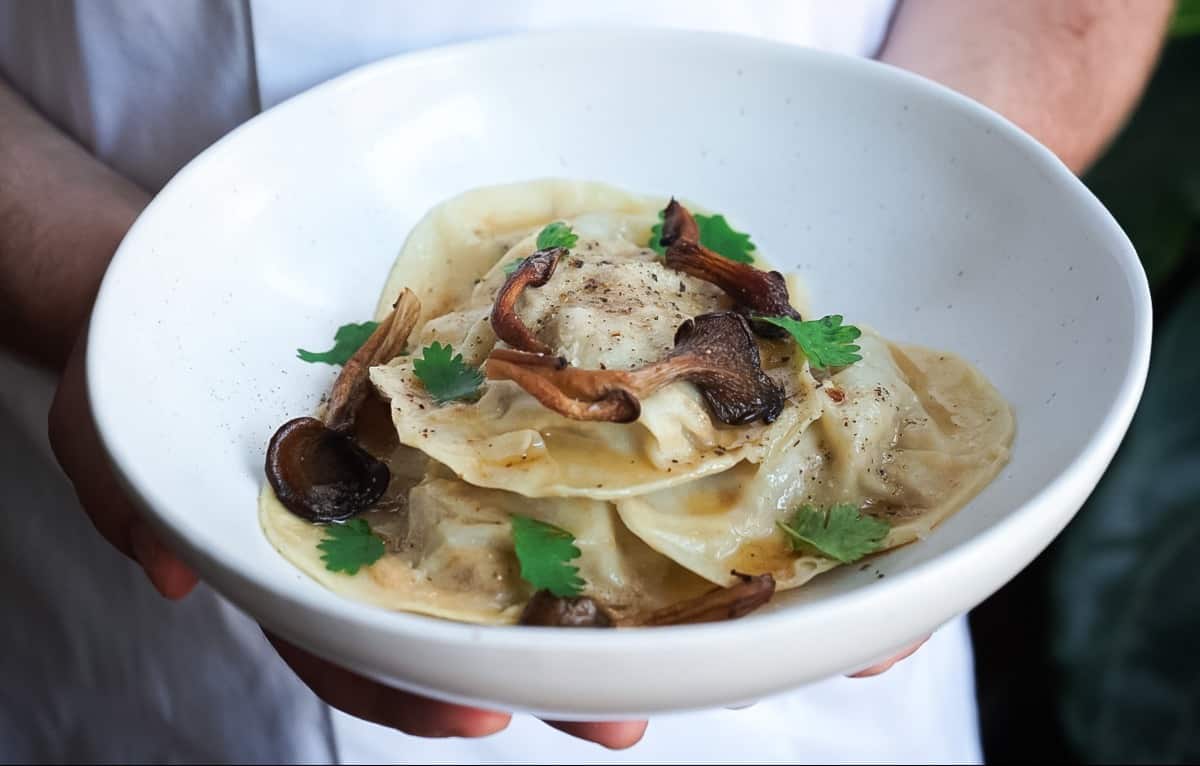 Ingredients
Pasta Dough -
You can sub with your favourite dry pasta for a super quick whip up!
50g 00 flour or all purpose flour 

50g durum semolina flour 

45g water 

5g good quality olive oil 
Ravioli Filling 
4 GUSTA Italiana sausages, finely chopped

 

4 cloves of garlic, minced 

2 tbsp good quality olive oil 

1 cup of shredded vegan cheese of choice 
Brown Butter Sauce 
2-4 tbsp vegan butter 

500g of mixed mushrooms, sliced or left whole 

Salt and pepper to taste
Prep
In a bowl, combine the 00 flour and the durum semolina flour, mix with a fork to combine. Then add the water and the olive oil. Mix with a fork until a shaggy dough forms.

Turn the bowl out onto a clean surface and knead the dough for 3-5 minutes until it is smooth and elastic. Wrap in plastic wrap and refrigerate while you prepare the rest of the prep. 

In a small saucepan, over medium heat, add the olive oil and garlic and cook for a minute. Add the finely chopped GUSTA Italiana sausage. Cook for 5-10 minutes. Set aside in a bowl to cool. Fold in vegan cheese of choice. 

Either using a pasta roller or a rolling pin, roll your pasta out very thin. Cut it in half when it gets too long. You should have 4 strips of thin pasta sheets. 

Lay your sheets out on a big surface. Brush water over the sheet of pasta. Drop the filling mixture on the dough by teaspoonfuls about one inch apart. Cover the filling with the top sheet of pasta, pressing out the air from around each portion of filling. Press firmly around the filling to seal. Cut into individual ravioli with a knife. Seal the edges. 

Fill a large pot with lightly salted water and bring to a rolling boil over high heat. Stir in the ravioli, and return to a boil. Cook uncovered, stirring occasionally, until the ravioli float to the top and the filling is hot, 4-6 minutes. Set aside on a baking sheet. Reserve some of the pasta water. 

In a large pan heat the butter until it gets hot and foamy. Stir in the mushrooms and cook. Add a pinch of salt and pepper. Once the mushrooms are fully cooked, about 5-10

minutes, stir in the cooked pasta and a spoonful of the pasta water. Make sure you are very gentle in the pan or else the pasta will tear. An alternative method is to place the pasta in your serving bowl and top the pasta with the butter mushrooms sauce. Serve up and enjoy.
Stats
20
Is the amount of kilos of grains saved each day with a vegan diet.
More fun facts!