Gustarium
7 December 2021
4 tips for an eco-friendly Christmas
Only a few weeks before Christmas and at GUSTA we're already wearing our ugly Christmas sweaters to get us in the mood. This period is the ideal opportunity to reunite with family and express our attachment to our loved ones. But, the fact remains that this holiday also celebrates overconsumption and food waste, if it's not properly planned out. Fortunately, there are always easy and economical solutions to make your Christmas eco-friendly and ethical.
Here are 4 ways to enjoy an eco-friendly Christmas :
1. Opt for vintage gifts
Vintage is the new fashion, much to the delight of our planet and our wallets. A host of online thrift stores and stores specifically designed to sell retro items are available.
Although some collectibles can be expensive, these places are THE perfect destination for finding special pieces with a symbolic meaning. Take your loved ones back to a favourite time with a vintage gift!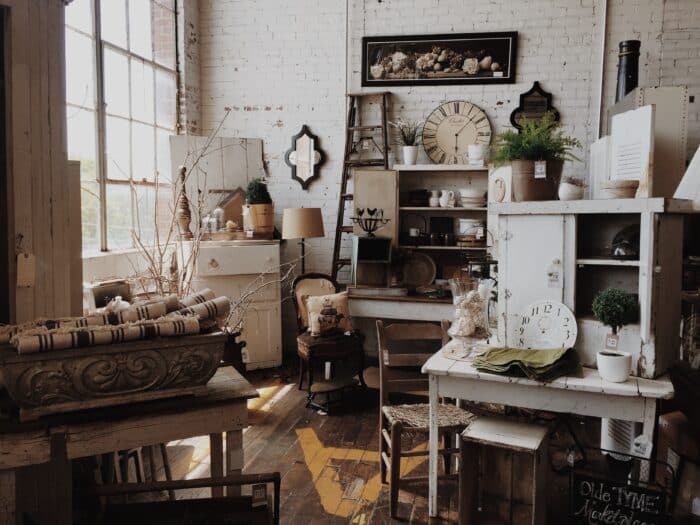 Here are a few addresses that will bring some joy:
MONTRÉAL
Esprit Vintage: 1380 Rue du Pont, Marieville, QC J3M 1G2, Canada
Kitschy Koo: 1465 rue Bélanger Montréal
Kitsch à l'os ou pas : 3439 rue Hochelaga Montréal
Citizen Vintage Mile-End : 5330 Boul. Saint-Laurent, Montréal, QC H2T 1S1, Canada
EVA B : 2015 Boul. Saint-Laurent, Montréal, QC H2X 2T3, Canada
Ruse boutique : 5141 Boul. Saint-Laurent, Montréal, QC H2T 1R9, Canada
TORONTO
Chosen : 1599 Dundas St W, Toronto, ON M6K 1T9, Canada
96 Tears Vintage: 1267 Bloor St W, Toronto, ON M6H 1N7, Canada
The Handwork Department: 1884 Danforth Ave, Toronto, ON M4C 1J4, Canada
VANCOUVER
F as in Frank Vintage Clothing: 2425 Main St, Vancouver, BC V5T 3E1, Canada
Woo Vintage Clothing: 4393 Main St, Vancouver, BC V5V 3R1, Canada
Community Thrift & Vintage FROCK SHOPPE: 311 Carrall St, Vancouver, BC V6B 2J4, Canada
2. Choosing your Christmas tree
There are several ways to reduce your ecological footprint while still enjoying a decorative Christmas tree!
First of all, don't even think about purchasing an artificial tree! While they might be reusable, they are a source of pollution thanks to being made from plastic. Ellipsos carried out a study on the life cycle of natural fir, comparing it to an artificial fir. Big surprise—an artificial Christmas tree emits approximately 8.1 kg of CO2 for its production and for its transport, while a natural tree emits only 3.1 kg of CO2. The natural option produces less than half of the pollutants than the artificial option! In addition, for the artificial tree to be considered carbon neutral it would have to be used for 20 years. And we know that after three years, the trees usually end up in the trash either through wear and tear, or simply because it's time for a change!
For an environmentally friendly tree, you can opt for a local, organic purchase. To avoid throwing it away, replant it in your garden after the holidays or pot your tree and make it part of your décor so you can enjoy it all year long!
If none of its options are appealing, why not rent a tree? This option, which saves money and is ecological, makes it possible to limit the wastage of trees.
As for you creative types, why not make your own tree using recycled objects, books, garlands or newspapers? This is a great family activity to entertain children and include them in holiday preparations.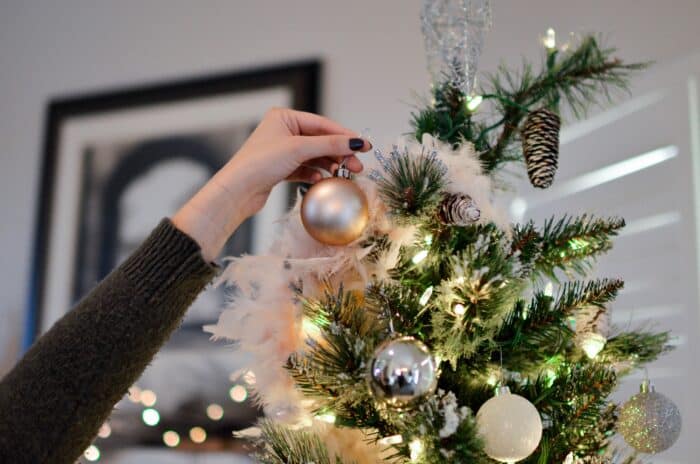 3. To wrap or not to wrap?
Gift wrapping often ends up in the trash, so why do we even bother? What really matters is what's on the inside, right?
If you want to create an Instagrammable Christmas moment, you can always opt for eco-friendly packaging – wrap your gift in fabric, it's a major trend this year! In addition to being reusable your gifts are going to look incredibly chic!
Here's a video that will inspire you next time you're wrapping gifts:
Furoshiki : zero waste gift wrapping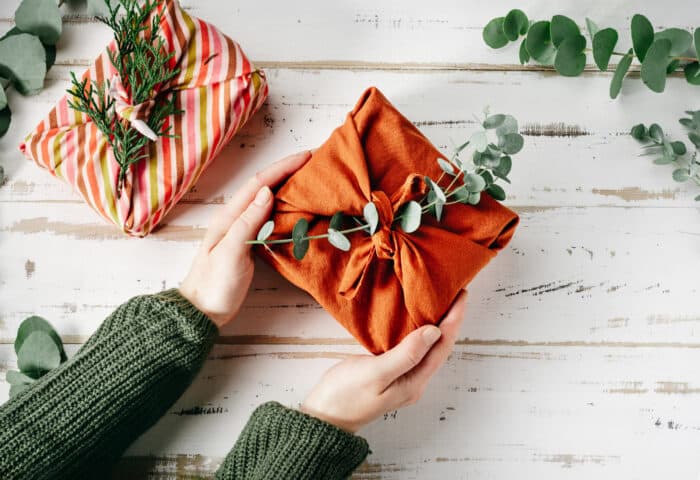 4. Less meat, more veggies!
Do you love cooking for your guests over the holiday period? There is no doubt, the meal is the best part of Christmas—the whole family is gathered together to share traditional and authentic dishes. And why not introduce them to some of your vegan recipes?
Gift yourself with The Buddhist Chef : Vegan Comfort Cooking. This cookbook is filled with recipes that your guest will adore; family classics that now have a vegan flair!
You can also always opt for our vegan alternatives that will make your holiday prep even easier: serve a platter of fauxmages for an aperitif, veggie sausages as a starter, or vegan pâté on your toast in the morning.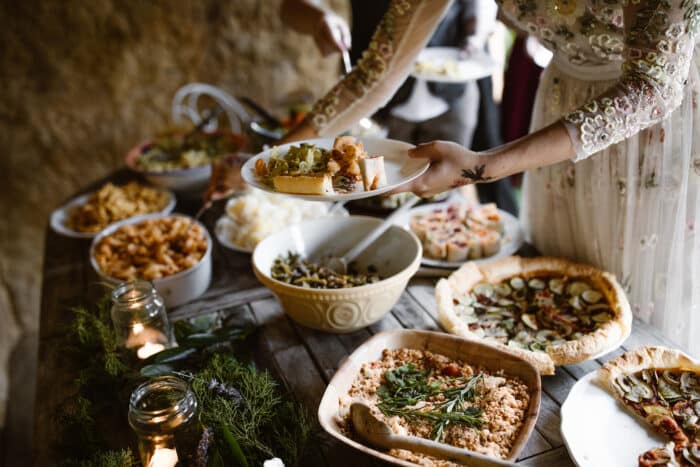 We hope these tips will help you start your resolutions long before January. Beginning at Christmas, you can start applying your new eco-friendly habits to ensure a better future for the planet, one small gesture at a time.