Gustarium
13 March 2020
The 5 best vegan sugar shacks
Just because you're vegan doesn't mean you can't enjoy the sugaring-off season! In recent years, more and more sugar shacks have been offering entirely or partially vegan menus. More yet have cooked up vegetarian menus from which vegans can select items to build a full meal. Let's not forget that the most important ingredient in any sugar shack meal – maple syrup – is 100% vegan!
La Cabane à Tuque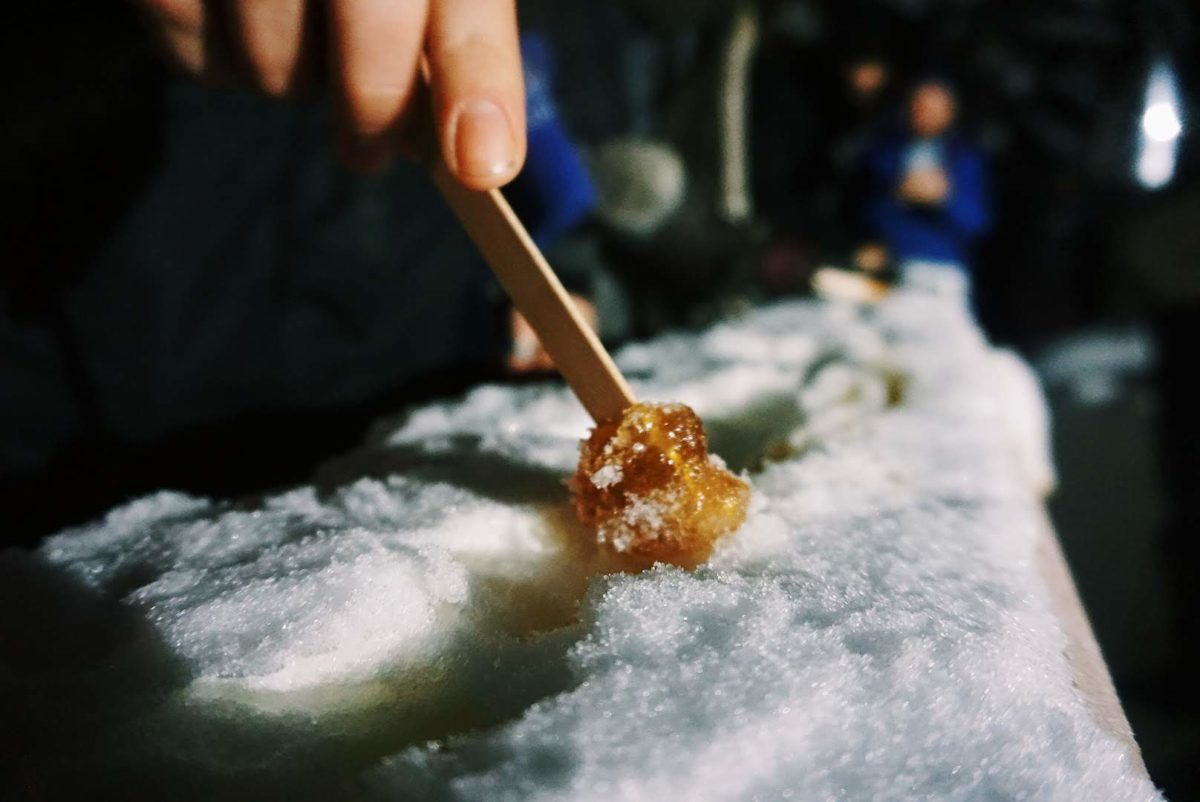 The Cabane à Tuque every vegan Quebecer's dream! The entirely vegan menu features vegan versions of traditional recipes: pea soup, cretons, "lardless" beans, and, of course, maple taffy on snow. You'll also love that the maple grove is environmentally friendly, since it was built using natural and recycled materials. From the beginning of February to the end of April, you can go there in small or larger groups of up to 35 people for a rustic and vegan experience at its best!
Photo source: http://lacabaneatuque.com/en/home/
La Pause Sylvestre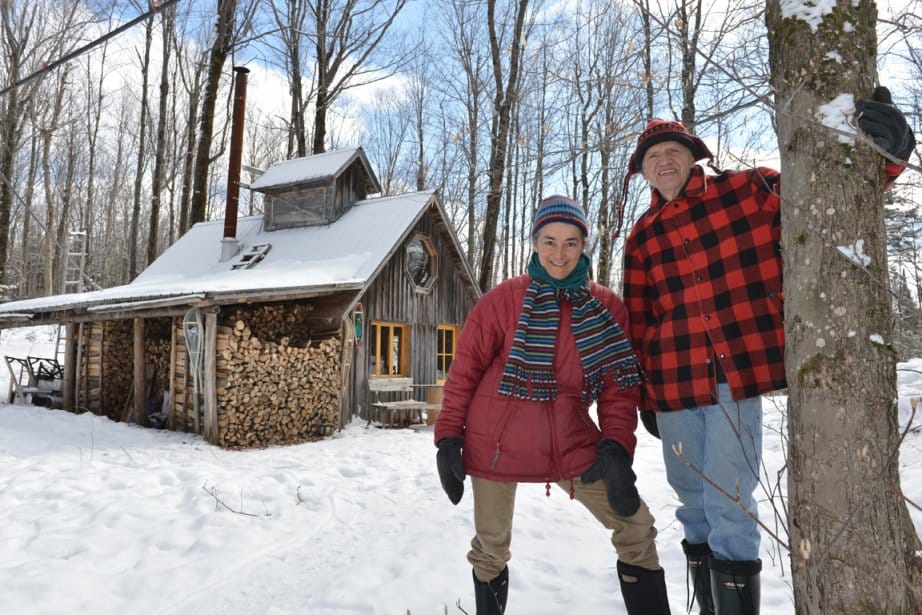 La Pause Sylvestre offers an intimate dining experience: this tiny sugar shack seating just 24 allows you to enjoy a vegetarian meal in a cozy, magical setting. Maple grove owners Mario Tremblay and Carole Bouthillette place vegetable proteins at the heart of their culinary creations. To enjoy a scrumptious vegan meal there, you'll have to call up your friends, because the entire cabin must be rented to order the fully vegan menu, where homemade sauerkraut, marinated beets, buckwheat pancakes and lots of maple syrup are all on offer. But heed this advice: it's better to call ahead to reserve your place because even without a website, La Pause Sylvestre is ever-popular.
Photo source: https://voir.ca/catherinecormier/2017/02/27/la-pause-sylvestre-cabane-a-sucre-vegetarienne/
Sucrerie du Domaine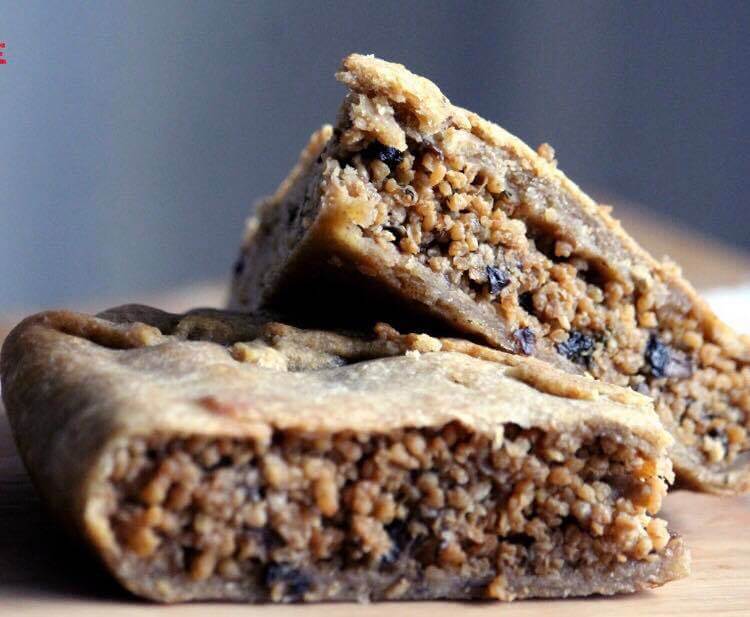 It may be renowned for its traditional, meat-heavy menu, but the luxurious Sucrerie du Domaine sugar shack offers vegan alternatives that don't go without notice. Tourtière, cretons and baked beans are deliciously replicated here, to the delight of vegans. Refusing to compromise, the owners took three years to develop their menu. They wanted the flavors to come as close as possible to the original ones, and the textures to be soft and smooth. For dessert, the sweet toothed can choose between pouding chômeur, pure maple syrup pie and maple taffy on snow. Delicious!
Photo source: https://www.laction.com/article/2019/03/05/un-menu-vegan%E2%80%A6a-la-cabane-a-sucre
Domaine Labranche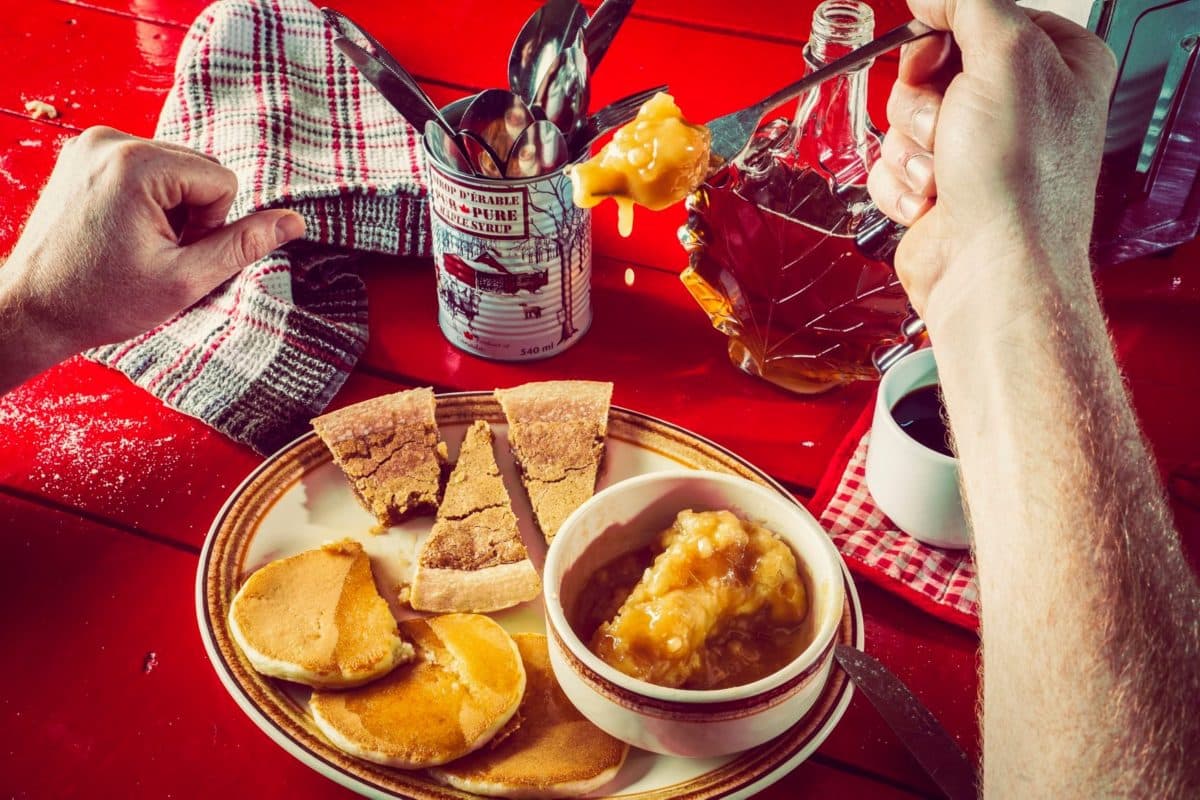 Domaine Labranche is a gourmet destination with everything to please those with dietary restrictions. Five menus are offered: traditional, vegetarian, vegan, gluten-free and lactose-free. This way, everyone can enjoy their meal to the fullest! The vegan menu includes vegetarian cretons and scrambled tofu with maple syrup. Enjoy your meal in a warm and friendly atmosphere before going out in the snow for a taffy beak. A pure delight!
Photo source: https://www.facebook.com/domainelabranche/photos/a.516588638354907/3841021282578276/?type=3&theater
Val des Rosacées
The Val des Rosacées maple grove, located in the heart of the hilly region of St-Joseph-du-Lac, near Mirabel, welcomes sugar shack enthusiasts of all kinds with panache. In addition to their traditional menu, vegetarian options, which are for the most part vegan, are offered. Other than the melted brie and omelette, the rest of the savoury menu is vegan, and it's hard not to fall in love with their vegan ham, Line's famous beans, and GUSTA sausages! Every week, a huge fruit salad is prepared for the vegan clientele, on which maple sugar is sprinkled. With something for everyone, you'll definitely find yourself asking for more!
Photo source: https://valdesrosacees.com/le-temps-des-sucres/
There are clearly an increasing number of alternatives for vegans with a sweet tooth. Sugar shacks are adapting to the changing demands of their clientele and, for that, we applaud them! This delicious Quebec tradition has everything to please, so it's great that they are evolving to accommodate as many diets as possible. And once you're back in town, extend the pleasure at home with our vegan tourtière recipe.
Et de retour en ville, on prolonge le plaisir à la maison avec notre recette de tourtière végane et son ketchup maison… Vive le temps des sucres!