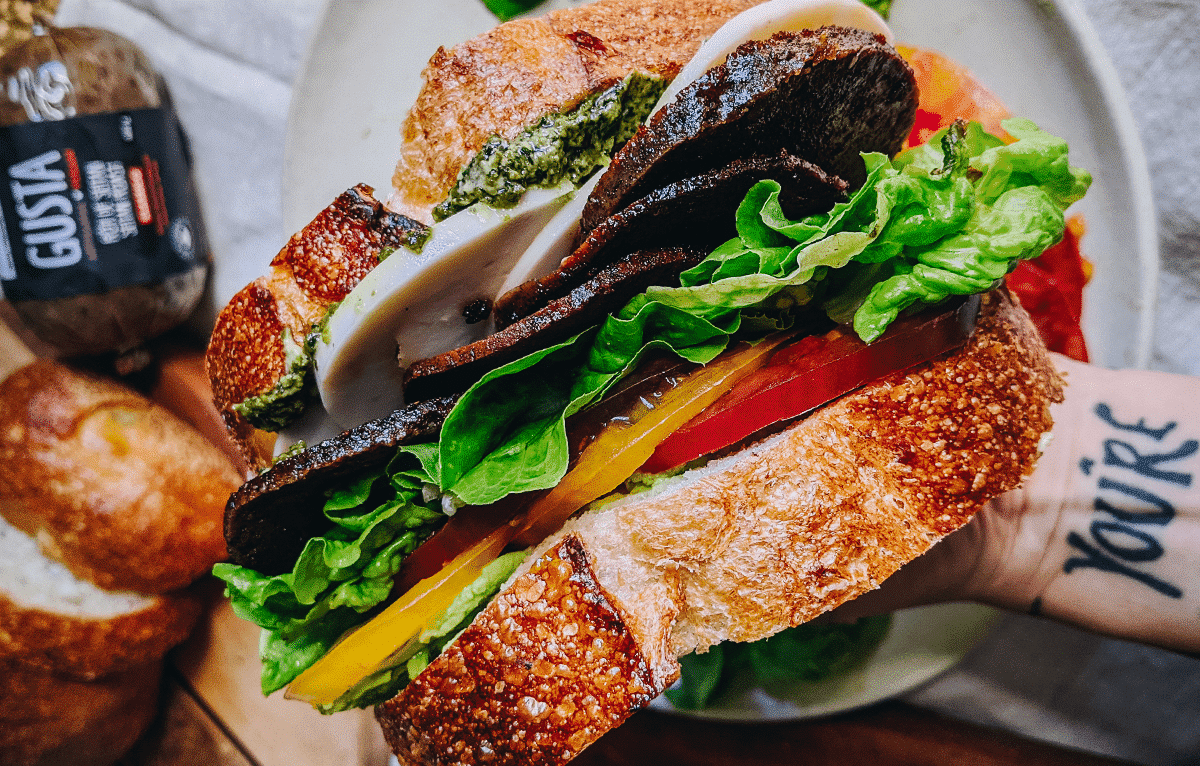 Ingredients
Pan-Fried seitan:
½ GUSTA Seitan Roast (Classico flavour), sliced into thin discs
2 tablespoons olive oil
1 tablespoon maple syrup
Sandwich fixings:
⅓ block GUSTA Cheese (Swisso flavour), sliced into thin discs
2 heirloom tomatoes, sliced into thin discs
2 cups butter lettuce
1 avocado, cut in half and sliced into strips
¼ cup vegan pesto
3 tablespoons Dijon mustard
6 thick slices sourdough bread
Prep
First, cook the seitan. Heat a large non-stick pan on medium-high heat and drizzle in the olive oil. Once warmed, add the seitan slices and cook on each side for 2 minutes, or until they become to brown just a little.
Drizzle on the maple syrup and make sure all the slices are coated with it, then turn off the heat and set aside.
Next, make your sandwiches! For each sandwich: spread mustard on one piece, and pesto on the other.
According to your own sandwich-building preferences, add your avocado, tomato, cheese, seitan, and lettuce.
Put the two pieces of bread together and voila!
Finally: eat! These are definitely best fresh, and should be eaten immediately or at least the same day.
Notes:
Customize this sandwich to your unique desires by using different condiments and fillings. The basic recipe remains, and it's foolproof: you can't go wrong with fresh bread, garden veggies, and perfectly-seasoned GUSTA products.
If you want melted cheese, put your cheese slices on a piece of bread before adding anything else. Pop that baby in a microwave or toaster oven for 1-2 minutes. (Keep an eye on it, though. We don't want burned cheese!) Then continue following the sandwich recipe, and just put the mustard and pesto on the slice without the cheese.
Stats
8
The water consumption required for 1 kg of beef is 8 times higher than for 1 kg of wheat.
More fun facts!