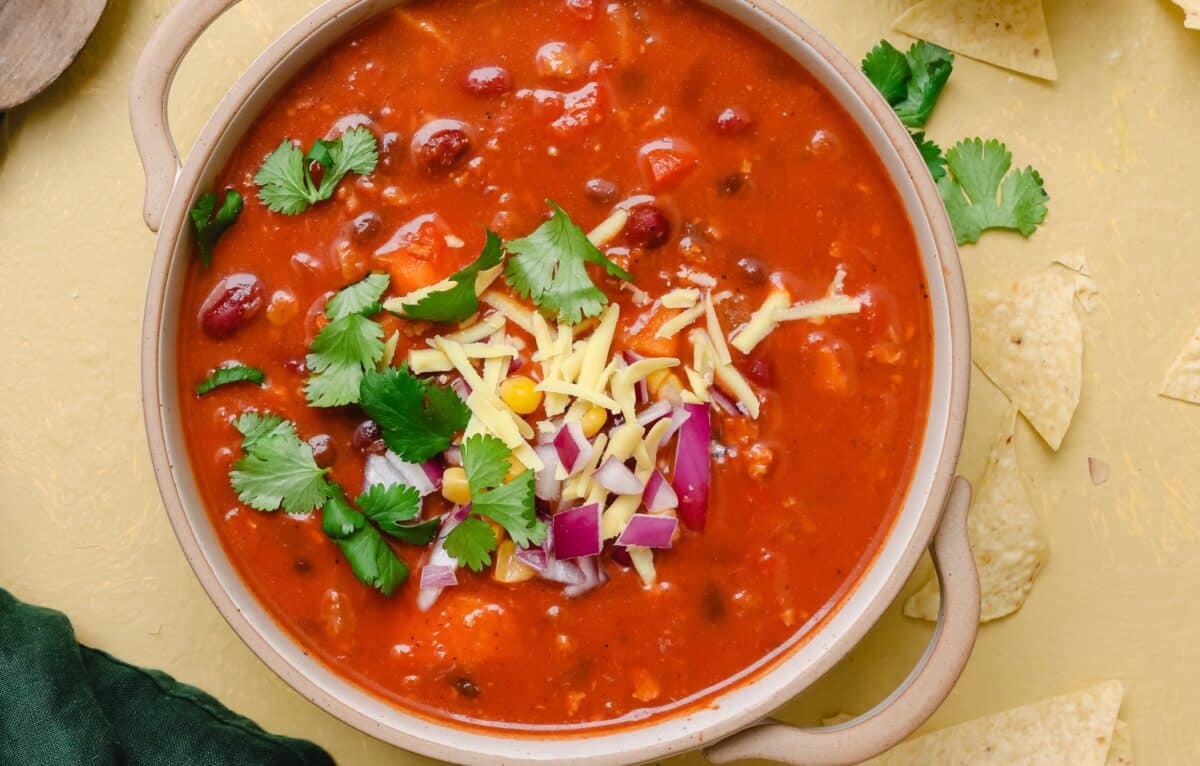 Ingredients
3 tbsp olive oil

1 package of GUSTA Mex Veggie Ground

1 medium red onion, chopped

2 cloves garlic, chopped

2 small sweet potatoes, peeled and cut into medium chunks

1 red bell pepper, cut into medium chunks

1 green jalapeno, finely sliced

2 cans diced tomatoes or 2 jars of tomato passata 

2 tbsp tomato paste

1 can black beans, drained

1 can kidney beans, drained

1 cup corn, frozen or from the can

3 cups low-sodium vegetable broth

1 tbsp chili powder (optional)

2 tsp ground cumin

2 tsp smoked paprika

1 tbsp fresh lime juice

2 tsp maple syrup or brown sugar 

1/2 tsp sea salt plus more to taste
Toppings:
1/4 cup chopped cilantro

GUSTA Original Cheese, shredded

Chopped red or green onions

Sliced jalapeno 

Avocado halves 

Lime wedges

Corn tortilla chips
Prep
Heat a large pot or dutch oven over medium-high heat. Once hot, add olive oil and onion. Sauté for 5 minutes, stirring frequently, until slightly browned. 

Add sweet potatoes, bell pepper and all of the spices cumin, smoked paprika, salt, sugar, chilli powder. Stir to coat and cook for 4 minutes, stirring frequently. 

Add jalapeno, garlic and tomato paste and sauté 1 minute longer.

Add vegetable broth along with diced tomatoes and deglaze the pot. Give everything a good mix and bring the soup to boil, then cover and simmer for 20 mins. 

Add beans, corn and Mex Veggie Ground, bring to a boil over medium-high, then reduce heat to low and simmer, undisturbed, about 10 minutes. 

Remove from heat, stir in lime juice and top with cilantro, chopped onion, sliced jalapeno and shredded cheese.

Serve hot with tortilla chips, lime wedges and avocado on the side. Enjoy!
Stats
+300%
Is the amount of the rising American vegan population in the last 3 years.
More fun facts!