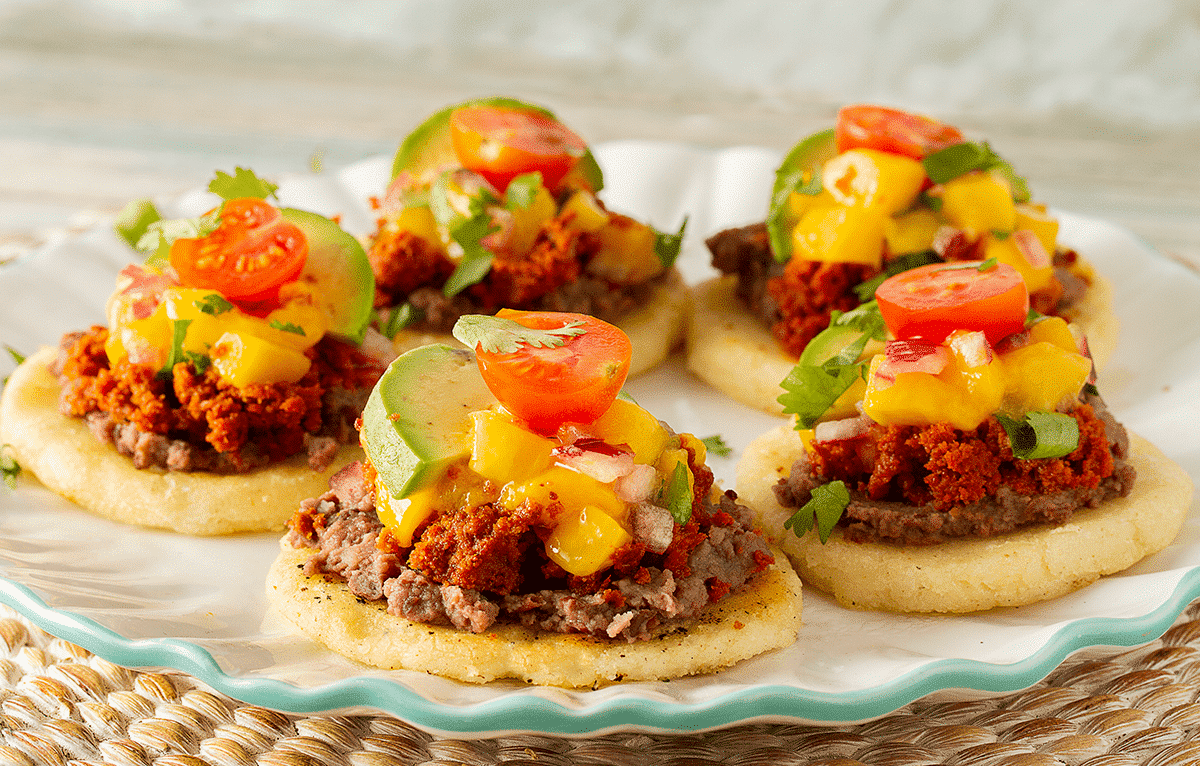 Ingredients
For Sopes:
1 ½ cups of masa harina (Mexican corn flour)
1 ¼ cup warm water
1 can of refried beans
1 avocado sliced
Cherry tomatoes for garnish
Veggie ground mex Gusta
3 tbsp olive oil
For the Mango salsa:
1 ripe mango, peeled, pitted, and finely diced (about 1 1/2 cup)
2 Tbsp finely chopped red onion
3 Tbsp fresh cilantro leaves, chopped
2 Tbsp fresh lime juice
1 Tbsp olive oil
½ tsp cayenne or 1/2 jalapeño chili, minced
Prep
Start by making your mango salsa. Mix all the ingredients in a medium bowl till well combined. Let sit in the fridge for flavours to combine.
In another bowl, mix in your masa harina and water with your hands until well combined. Roll out 2-inch balls onto a plate and cover with a damp cloth.
Sandwich your balls, one at a time, with plastic wrap then using either a tortilla press (if you have one) or the bottom of a heavy pie dish (which also works really well), press your balls until you have a ½ in thick round medallion. If your edges have cracked, you can add a little extra water and reshape your edges. You should have a 3inches in diameter
Once all your sopes are formed, heat up your frying pan on a medium heat with your olive oil and fry up your ground Mexican loaf for 2 minutes stirring frequently.
In a clean pan, heat up some more olive oil over a medium heat and fry up your sopes for 2 minutes on each side until golden.
Spread your refried beans on your sopes medallions, then top with the ground Mex Roast, top off with mango salsa, avocado and ½ a cherry tomato. Enjoy!
Stats
10%
Is the percentage of Canadians who call themselves vegan or vegetarian.
More fun facts!