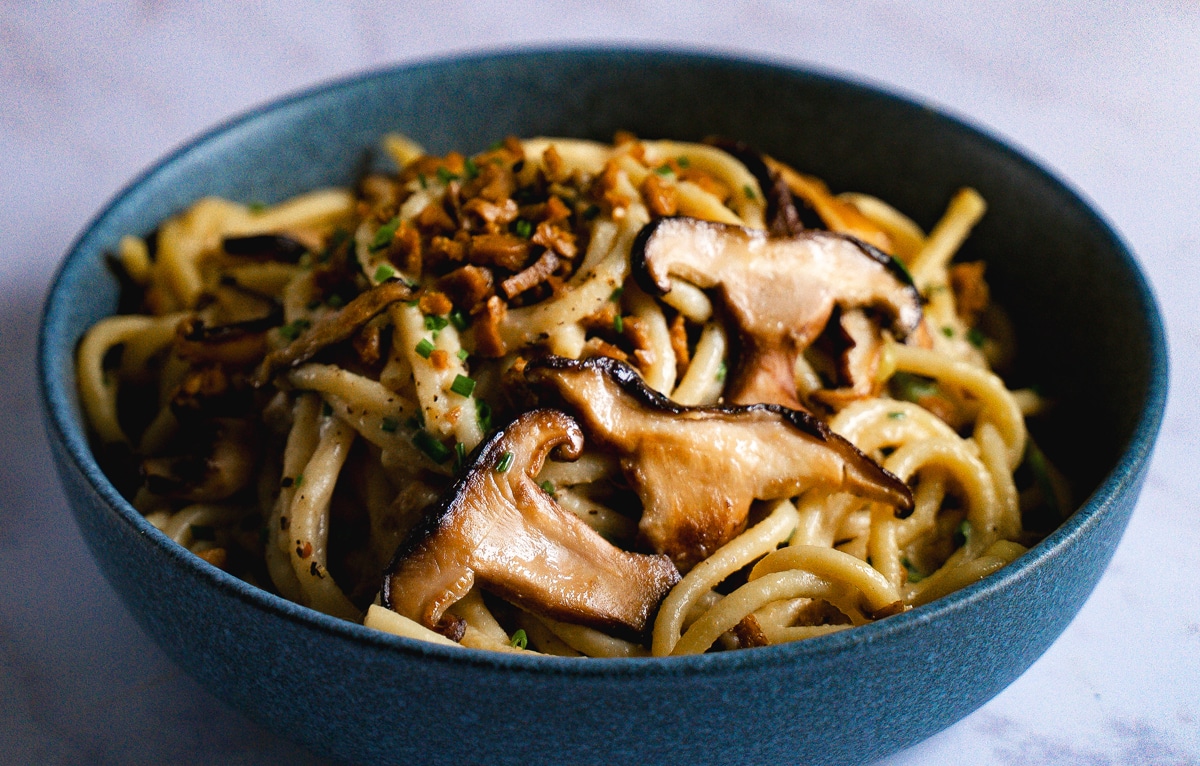 Ingredients
400g bucantini or other pasta of choice
6 GUSTA Vegan dog, crumbled with a fork
2 to 3 tbsp vegan butter
3 shallots, finely chopped
3 cloves garlic, finely chopped
100g leeks, sliced in rings
200g shiitake mushrooms, sliced
1/3 cup all-purpose flour or any other flour of choice (we used rice flour)
2 and a half cups plant-based milk of choice (we used soy milk)
1 cup of soy cream
1 tbsp nutritional yeast
1 Vegan cheese GUSTA Original, grated
Chives, finely chopped
Salt and pepper to taste
Prep
Bring a large pot of water to a boil and cook the pasta according to the package directions.
In a large pan over medium-high heat, heat 1 tbsp of vegan butter. Add the shallots and garlic and sauté until they turn translucent and begins to brown.
Add the remaining butter, crumbled sausages, leeks and mushrooms and continue to cook until the leeks and mushrooms are golden brown.
Sprinkle over the flour, stir to coat, cook for about 1 minute, then whisk in all of the remaining ingredients.
Cook the sauce for about 5 minutes until thickened, stirring occasionally (*If the sauce becomes too thick, add a little more plant-based milk, and if the sauce is too thin, simply cook it longer.).
Adjust the seasoning if necessary.
Add the cooked pasta and mix well to combine.
Serve hot. Garnish with grated Vegan grating block and chives.
Stats
8
The water consumption required for 1 kg of beef is 8 times higher than for 1 kg of wheat.
More fun facts!