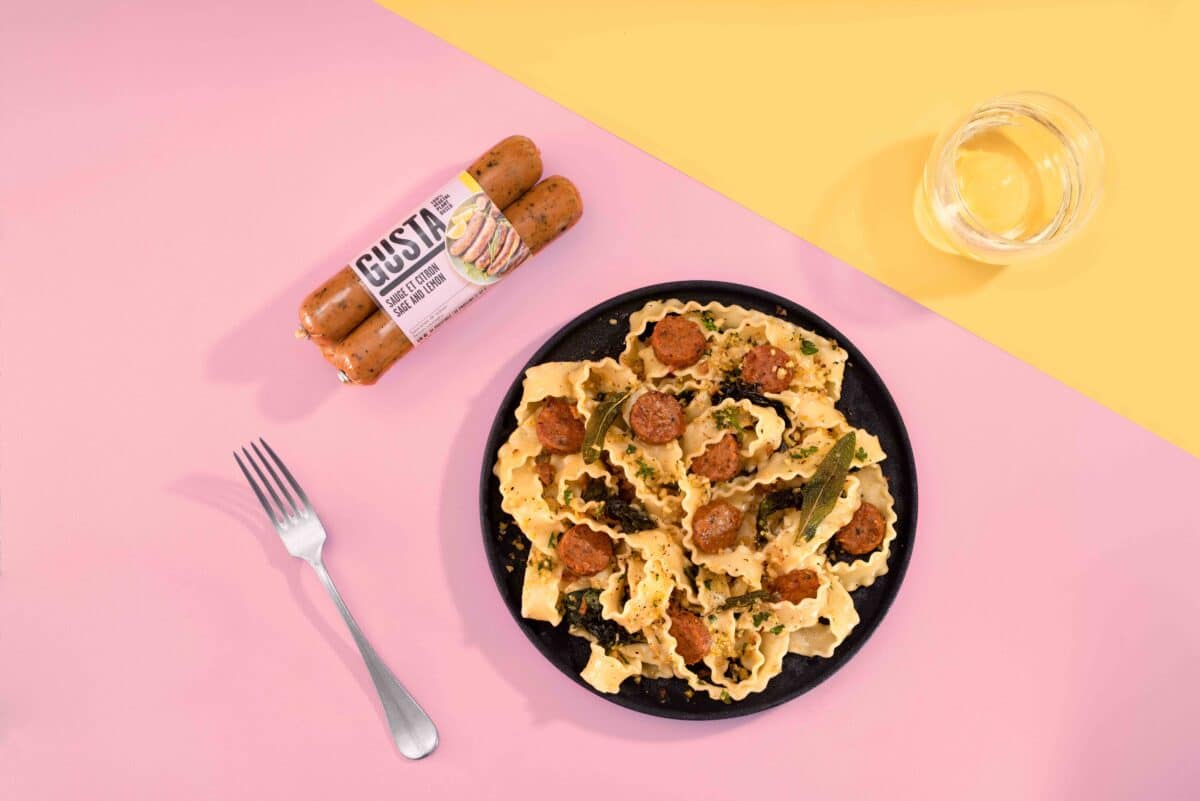 Ingredients
For Gremolata
¾ cup of walnuts
½ cup finely chopped parsley
Zest of two lemons
4 to 5 finely chopped sage leaves
One clove of garlic, finely chopped
2 teaspoons of nutritional yeast
Pinch of salt
For pasta
Pasta of your choice for two people
2 GUSTA sage and lemon sausages
¼ cup vegan butter
¼ cup of olive oil
One clove of garlic
4 to 5 sage leaves
3 kale leaves, chopped
¼ cup of cooking water
Prep
In a skillet over medium heat, toast the walnuts for a few minutes.
Then, using a grinder or knife, chop the walnuts and mix all the ingredients for the gremolata in a bowl.
In a large pot of boiling salted water, add the pasta and cook according to the brand's recommendations.
Meanwhile, melt butter and olive oil in a skillet over medium heat. Add sage leaves and a whole clove of garlic. Let the liquid soak up the flavour for a few minutes.
Two minutes before adding the pasta to the mixture, add the sausage pieces or slices and the minced kale to the pan over high heat. Remove the garlic clove.
Drain the pasta, reserving a quarter cup of the cooking water. Add pasta and cooking water to mixture.
Mix. Serve on two plates and top pasta with gremolata.
Stats
350%
Shows the rise of veganism in the UK from 2009 to 2016.
More fun facts!