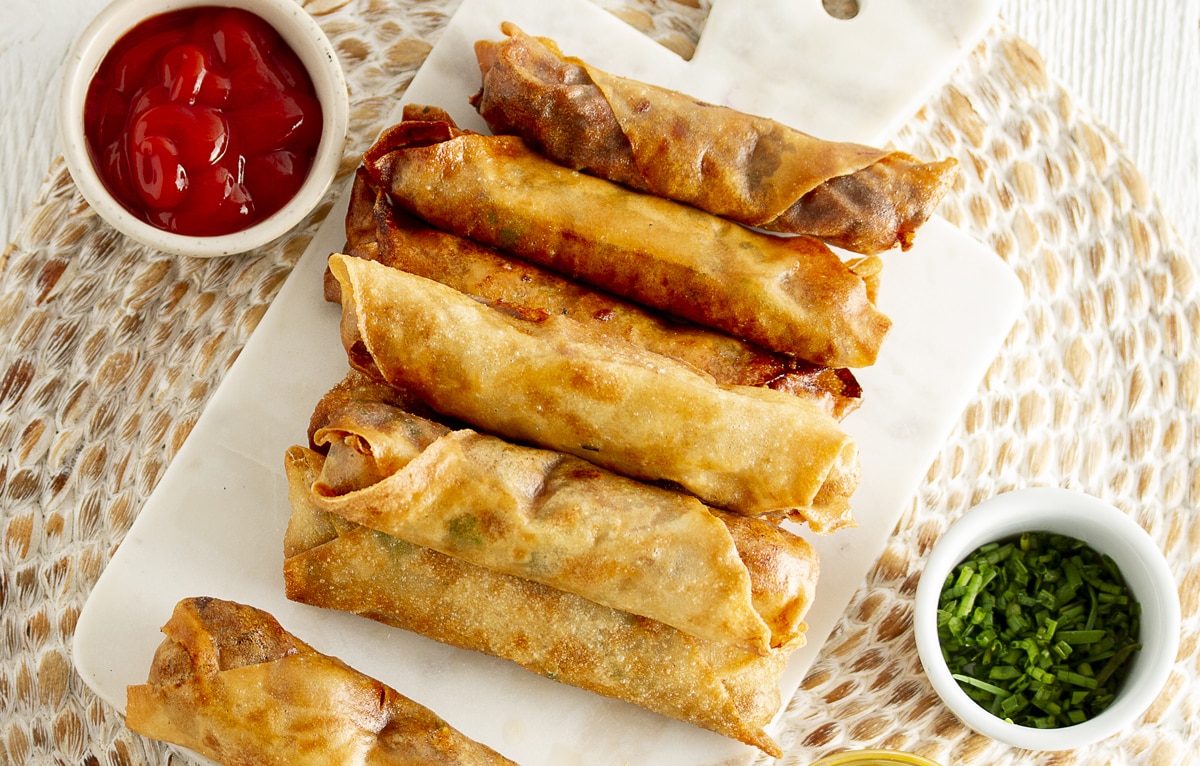 Ingredients
1 pack Spring Roll Wrappers
8 GUSTA Vegan dog
1 can vegan chili (450 ml)
1/2 cup minced white onion
1 Cheddar Style GUSTA Cheese
2 tbsp. finely chopped chives
Vegetable oil, enough to fill 2 inches of your pan
Vegan Egg Wash
2 tbsp Maple Syrup
Ketchup and Mustard for dipping
Prep
Lay an egg roll wrapper down with the point facing you so it looks like a diamond shape.
Place a vegan dog across the egg roll wrapper vertically so the ends are in line with 2 of the corners of the wrapper.
Spoon 1 to 2 tablespoons of chili along the length of the hot dog and 1 tbsp cheese, onions and chives.
Fold over the 2 wrapper corners facing the dog ends tucking them around the hot dog and toppings.
Fold over the left side sealing it with a dab of maple syrup. Roll over your roll to close it and seal the other side with another dab of maple syrup.
Fill a deep-frying pan with 2 inches of vegetable oil and heat over medium high heat till it reaches 350°F.
Gently place spring rolls in hot oil with a slotted spoon, making sure not to crowd the pan.
Cook about 2 minutes per side or until they're lightly browned.
Let cool 5 minutes and serve with ketchup and mustard.
Stats
58%
Is the percentage of people in Canada who want to reduce their meat consumption in order to be healthier.
More fun facts!