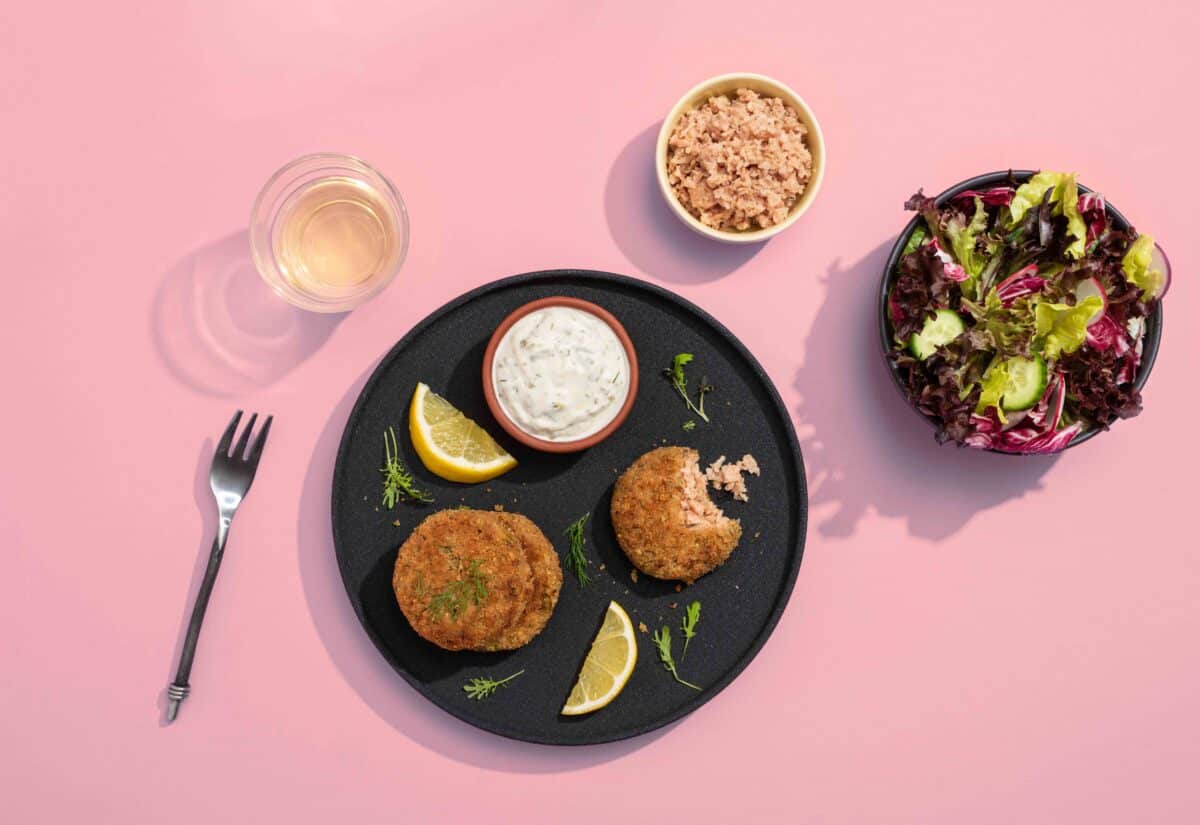 Ingredients
For the galette:
1 pack of GUSTA fish free tuna
1/2 cup of plain breadcrumbs
1/3 cup of vegetable mayonnaise
1 tbsp of Dijon mustard
30 ml unsweetened oat milk
2 tbsp of finely chopped green onions
1 tbsp chopped fresh dill
Salt and pepper
For the breading:
¼ cup plain breadcrumbs
45 mL vegetable oil
For the creamy sauce:
1/2 cup vegetable mayonnaise
1 tbsp chopped capers
1/4 cup finely chopped small sweet pickles
Zest of one lemon
1 tbsp of lemon juice
2 tbsp of fresh herbs of your choice (chives, parsley, dill, etc.)
Prep
Preheat your oven to 400°F.
In a bowl, mix all the ingredients for the patty and let stand for 5 to 10 minutes in the refrigerator.
Meanwhile, prepare the sauce: Mix all the ingredients together.
Once the waiting time is over, form small patties with your hands in the desired size (about 8 small patties or 4 large ones)
Place the extra ¼ cup of breadcrumbs in a shallow bowl and place the patties one at a time, covering them well with breadcrumbs.
Using a brush, oil the patties on both sides and place them on a baking sheet. Bake for about 15 minutes, turning the patties halfway through.
Serve warm with sauce or as a patty between two burger buns.
Stats
+300%
Is the amount of the rising American vegan population in the last 3 years.
More fun facts!