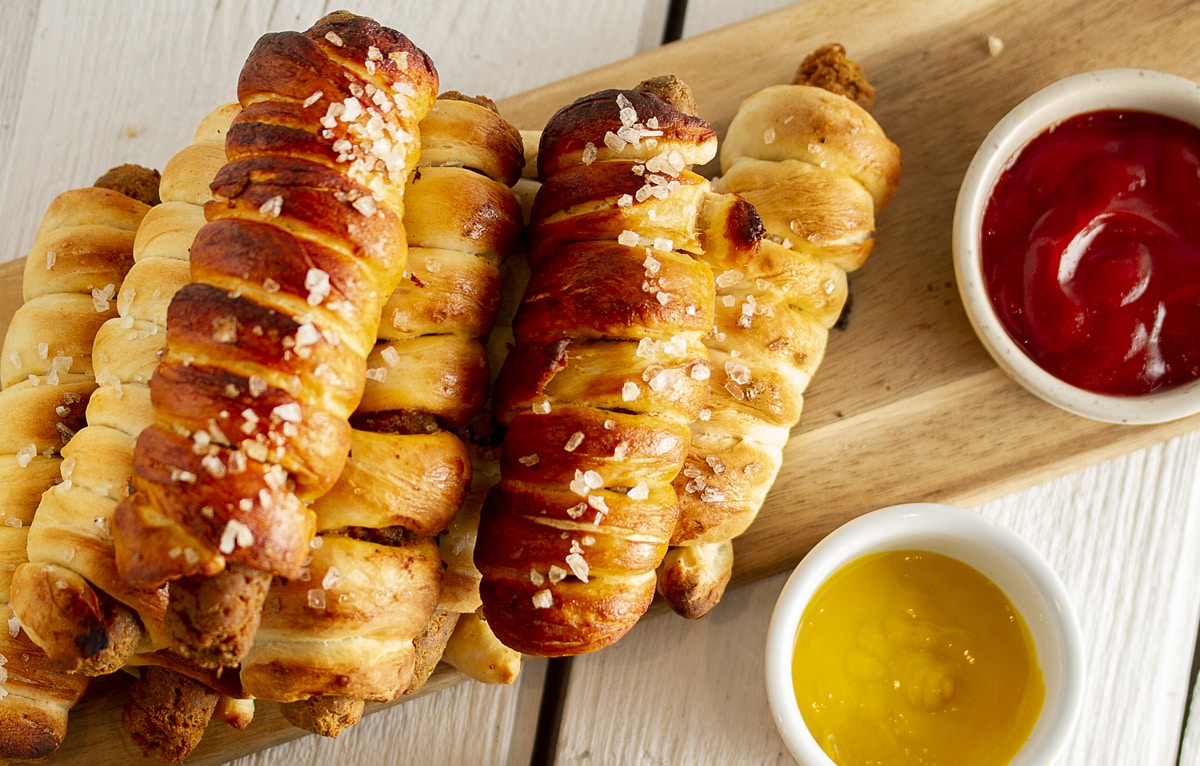 Ingredients
8 GUSTA Vegan dog
1 cup GUSTA Mozzarella Style cheese
2/3 cups water warm
1/2 tbsp sugar granulated
1/2 tsp salt, kosher reduce amount if using table salt
1/2 tbsp yeast, active dry
2,5 cups flour all purpose
2 Tbsp vegan butter, melted
½ Tbsp Vegetable oil
Baking Soda Bath
3 cups water
1 tbsp baking soda
Vegan Egg Wash
2 Tbsp olive oil
1 tablespoon pure maple syrup
Coarse salt or Pretzel Salt
Prep
Combine warm water, sugar, salt, and yeast. Stir and allow it to sit for 4-5 minutes. A layer of foam will form on the top.
To a medium bowl, add flour, the yeast slurry, and melted butter. Knead with hands until the dough becomes stretchy and uniform.
Remove the dough from the bowl and lightly grease it with olive oil, then return back into the bowl and cover with a tea towel. Let rise for 1 hour.
Prepare a baking sheet with parchment paper and preheat oven to 450°F.
Take a golf ball-sized piece of dough.
Shape into a 25-inch rope
Wrap it around the full length of the sausage, looping and pinching the ends of the rope inside.
Bring water and baking soda to a rolling boil.
One by one, place the pretzel dogs into the boiling soda water for 30 seconds.
With a slotted spoon remove them and place onto the prepared baking sheet.
Brush on "egg" wash mixture and sprinkle with coarse salt.
Wipe off any excess soda water that has fallen onto the baking sheet and place in oven.
Bake until golden brown in color, about 9-12 minutes.
Let cool 1-2 minutes and serve with ketchup and mustard.
Stats
58%
Is the percentage of people in Canada who want to reduce their meat consumption in order to be healthier.
More fun facts!