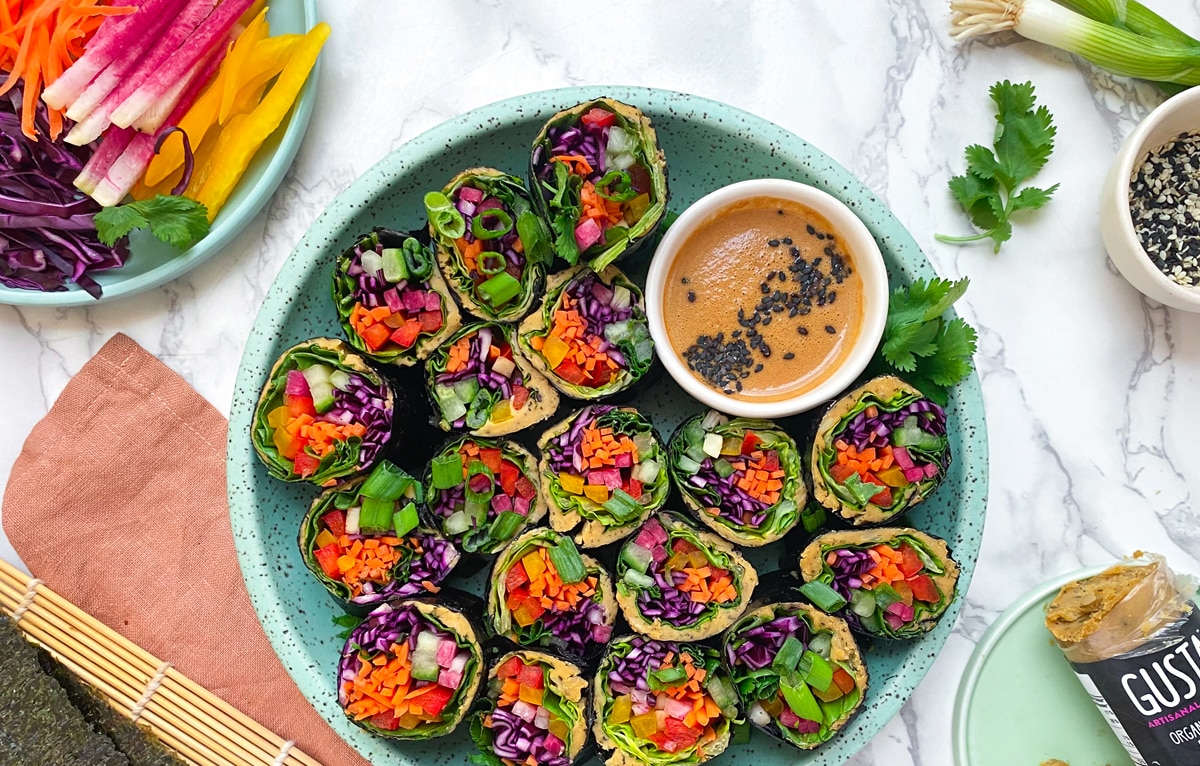 Ingredients
For the Rolls:
A bamboo sushi rolling mat
1 Gusta Traditionnel Organic Vegan pâté
6-8 Nori sheets
Red and yellow peppers, julienned
1 Cucumber, julienned
3 Carrots, julienned or peeled into ribbons
Purple cabbage, thinly sliced
Watermelon Radish, julienned
Romaine Lettuce Leaves
Green onion, leave as whole or chop
Cilantro (or any other herb of choice!)
6-8 Nori sheets
1/2 lime
Sesame seeds
For Savoury Spring Sauce:
1 tbsp peanut butter
1 tsp white miso
2 tbsp Tamari sauce
1 inch fresh ginger, chopped
Juice from half a lime
1 tsp maple syrup
1/2 tsp of sesame oil
1/4 cup warm water
Prep
Take out 1-2 of the Gusta Traditionnel Organic Vegan pâtés and let it sit at room temperate for 10-20 minutes before spreading.
Wash, chop and prep all of your rainbow roll ingredients. Set Aside.
On a flat surface or chopping board lay your bamboo sushi mat flat. Take a single nori sheet and lay the shiny side down facing the mat.
Take as much as you want and spread about 1/2 of the nori sheet from the bottom to the middle of the sheet.
Take a romaine lettuce leaf and place on top.
Then start to layer up your chopped rainbow veggies in any order you like. Make sure not to put too much or else you won't be able to achieve a proper roll.
Take some water and lightly wet the top edges of the nori roll.
Slowly take the bottom edge of your sushi mat, roll and fold over. You can lightly tug at the top of the sushi mat and tuck the veggies in to create your roll. Continue rolling and lightly keep pulling until the nori wrap is all rolled.
Take both hands and lightly press and tighten your wrap in the sushi mat and remove the whole roll and place on a prepared plate.
Repeat this for each roll.Place the rolls into the fridge.
For your Savoury Spring Sauce. Place all of the ingredients into a blender and blender until full combined. Transfer to a dish for dipping.
Cut the rolls as you want. Enjoy!
Stats
20
Is the amount of kilos of grains saved each day with a vegan diet.
More fun facts!