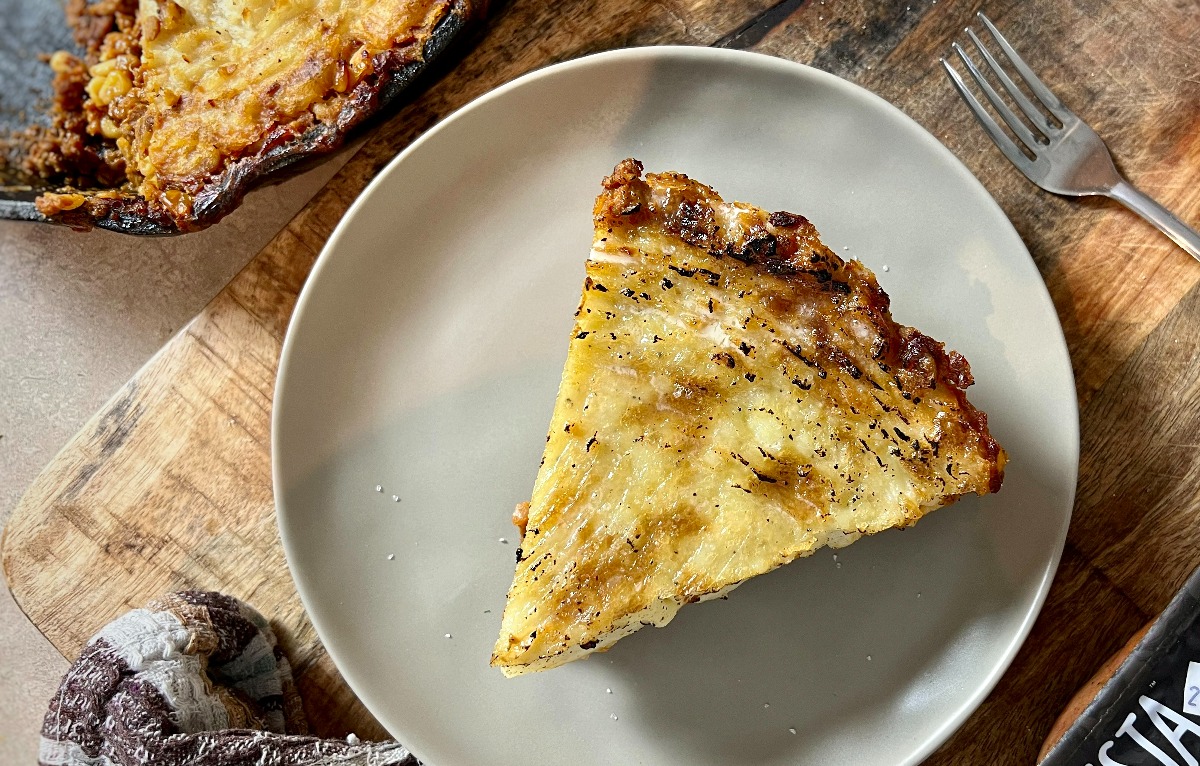 Ingredients
680g (2 packs) GUSTA Mex veggie ground
50g GUSTA Original cheese, grated

2.2lb russet potatoes, peeled

130g vegan butter

1 tbsp vegetable oil

215g white onions, chopped

2 tbsps all-purpose flour

1 tbsp minced garlic

1/2 tsp onion powder

1 tsp garlic powder

1 tsp black pepper

1 tsp paprika

1 tbsp dry parsley flakes

3 tbsp dark soy sauce

2 tbsp ketchup

1 tbsp tomato paste

1 tbsp red wine vinegar

400ml vegetable broth

280g canned whole kernel corn
Prep
Peel and rinse the potatoes then boil them until very soft.

Once very soft, drain the water from the pot, add in the 130g of butter, 1⁄2 tsp garlic powder, 1⁄2 tsp black pepper, the 50g of grated GUSTA Original cheese then mash the potatoes and mix everything together until it forms a smooth consistency. Add salt to taste.

In a large cast iron skillet set to medium-high heat, add in 1 tbsp vegetable oil then cook the onions and garlic until fragrant.

Add in GUSTA Mex Veggie Ground and crumble with a spoon or spatula. Then mix in the 2 tbsps of flour and allow to cook for 5 minutes. 

Mix in 1⁄2 tsp onion powder, 1⁄2 tsp garlic powder, 1⁄2 tsp black pepper, 1 tsp paprika, 1 tbsp parsley, 2 tbsps ketchup, 1 tbsp tomato paste, 1 tbsp red wine vinegar and 400ml vegetable broth.

Stir occasionally for 10 minutes then turn off the heat.

Evenly spread the corn on top of the mix, then spread the mashed potatoes evenly on top of the corn layer.

Place in the oven to bake for 30 minutes then set your oven to boil at high heat for 1-3 minutes or until the top of your potatoes have turned brown and slightly crispy.

Enjoy hot with a side of ketchup or brown gravy.
Stats
58%
Is the percentage of people in Canada who want to reduce their meat consumption in order to be healthier.
More fun facts!