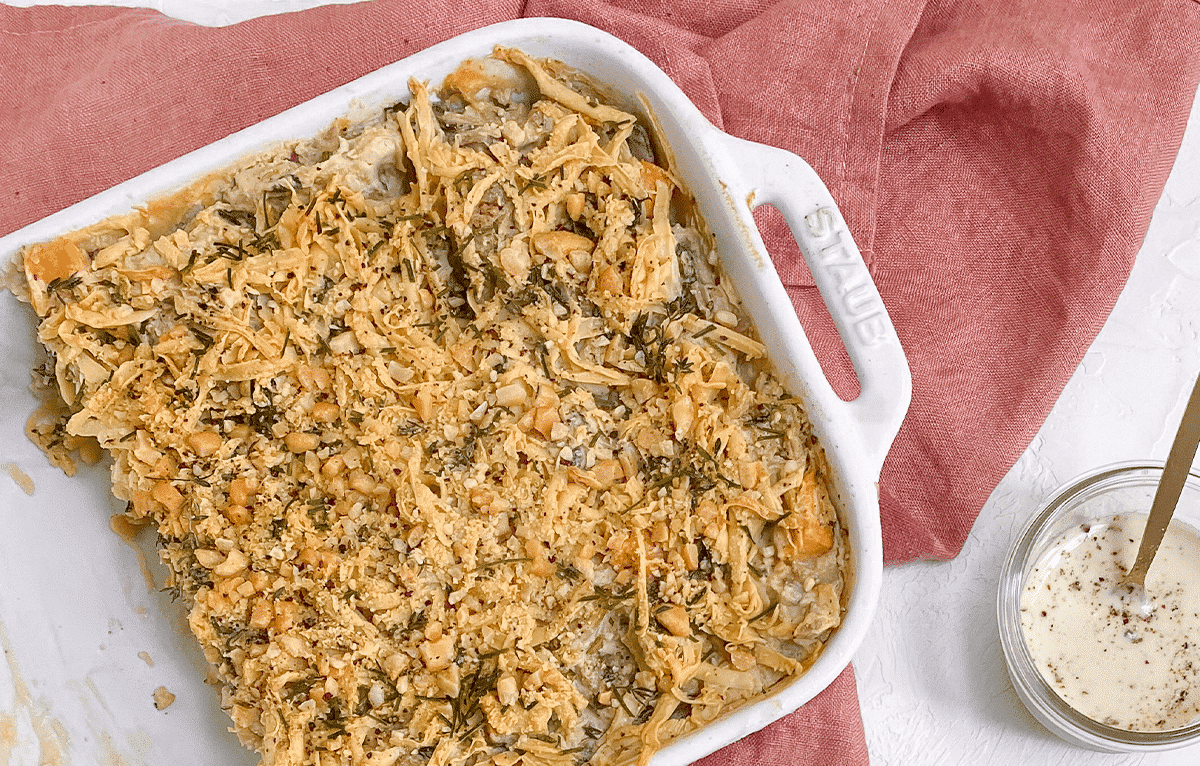 Ingredients
For the cheezy bake:
2 small spaghetti squash
2 cups of broccoli chopped into small florets
2 cups of cremini mushrooms sliced
1 large shallot minced
3 cloves of minced garlic
4 GUSTA Apple Maple sausages
1 GUSTA Original vegan cheese
2 cups of lacinato kale chopped/ribboned
1 small sweet potato cubed
Fresh thyme and chive
1/4 cup of cashew crumble (1/3 cup of cashews crushed, 1 tbsp of nutritional yeast, 1 tsp of sea salt - mix together)
For the Creamy-cauliflower sauce:
2 tbsp of olive oil
1 shallot chopped
3 garlic cloves minced
1 small cauliflower (3 cups) but into small florets
1/2 cup of soak cashews
1 cup of vegetable broth
1 tsp of sea salt
1 tsp of onion powder
1 tbsp lemon
1 tbsp of nutritional yeast
1 tbsp of Dijon mustard
Pepper to taste
Prep
Premake creamy cauliflower sauce:
Soak the 1/2 cup of cashews for 4 hours prior to making the sauce.
Place cauliflower florets into steamer basket and steam, covered for 10 mins or until fork tender. Then add oil, minced garlic, and chopped shallots into a skillet over medium-high heat for 3-4 mins or until soft.
Place the steamed cauliflower, sauteed garlic, and shallot into a high-speed blender (ventilated is best!).
Then combine all the other creamy-cauliflower sauce ingredients into the high-speed blender and blend everything together until a smooth sauce form. Set creamy sauce aside.
Directions for the Cheezy bake goods:
Preheat oven to 375˚F.
Slice squash in half lengthwise, remove the seeds, and place halves onto a baking sheet (face down) and roast for about 35 mins or until squash becomes fork-tender and browned around the edges. Add chopped sweet potato in the oven at the same time as the squash, tossing halfway. Set both aside and let it cool before scraping out the flesh with a fork to create noodles for the bake.
While the squash is cooking, cook the Apple Maple sausages - set aside, once cooled break apart into a ground texture.
Grate the GUSTA Original cheese, set aside.
Place a large skillet over medium-high heat and add more oil. Sauté garlic and shallot for 2 to 3 mins. Then add mushrooms and continue to sauté for 3 mins or until caramelized. Add in the chopped broccoli saute for 2 mins then add the kale for another minute. Bring everything together in a large bowl (except the sauce!) and mix together. At this point you'll want to save about half of the grated cheese for sprinkle on top. Place the mix into a greased baking dish, then pour the creamy-cauliflower sauce over top and mix everything together with a fork.
Once the mix is fully covered, sprinkle the rest of the GUSTA grated cheese on top, along with the cashew crumble, some salt, pepper, fresh chives and thyme.
Let it bake in the oven for 15-20 minutes, or until the top turned a slightly golden brown. Let the bake sit for 10 minutes, then enjoy! :)
Stats
350%
Shows the rise of veganism in the UK from 2009 to 2016.
More fun facts!