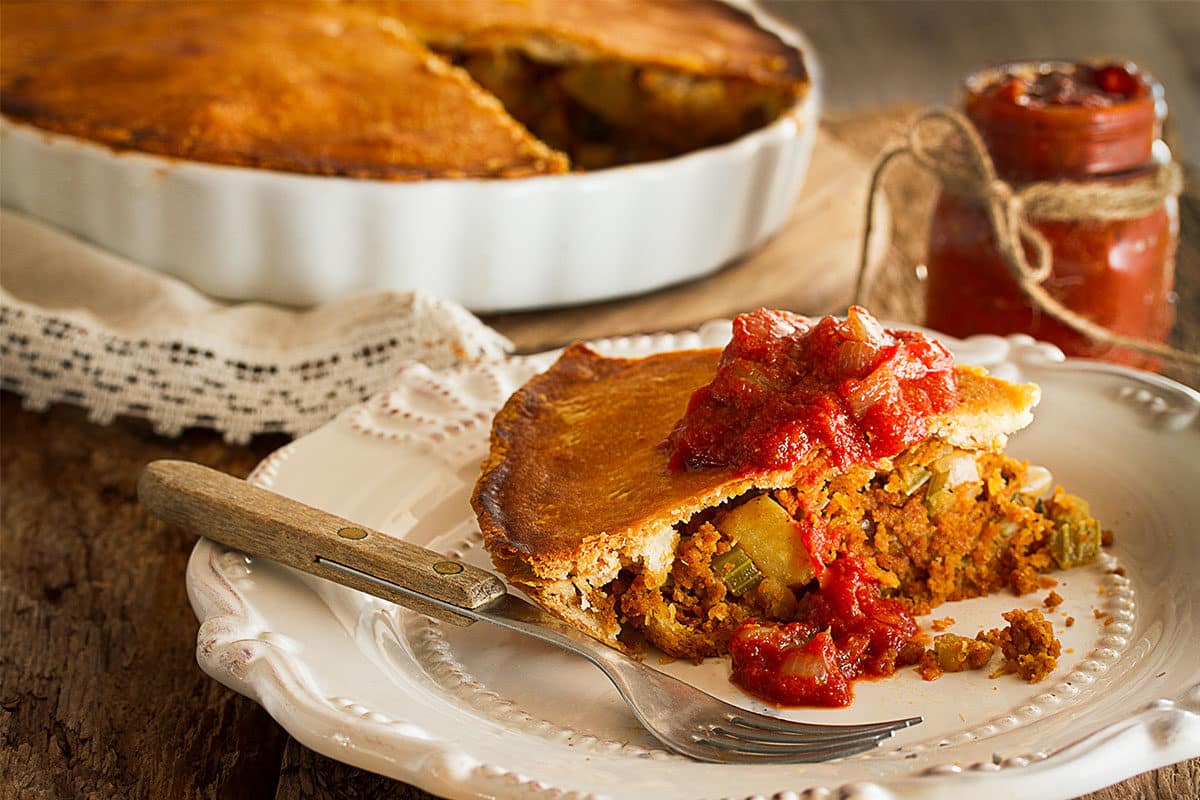 Ingredients
For a 10 inches pie. Filling:
2 vegan shortcrust
1 GUSTA seitan roast Classico (400 g)
1 cup of vegetable broth
1/4 cup of vegetable oil
1 stalk of celery, chopped
1 yellow onion, chopped
1 medium yellow potatoes, diced
4 white mushrooms, chopped
Homemade ketchup:
1 cup of water
1 can of tomato paste (156ml)
½ cup apple cider vinegar
1 tsp garlic powder
1 Tbsp onion powder
2 Tbsp cane sugar
2 Tbsp molasses
1 tsp sea salt
1 tsp dry mustard
1/8 teaspoon of cinnamon
1/8 teaspoon of ground cloves
1/8 teaspoon of all spice
Prep
Preheat oven to 400°F (205°C)
Heat a large stockpot on medium heat and add the oil.
Add the vegetable (celery, potatoes, onions, mushrooms). Cook for about 7 minutes
Chop the seitan in the food processor.
Add the vegetable broth and chopped seitan and cook for about 3 minutes.
Assemble the meat pie: put the first shortcrust in the bottom of your dish, add the filling then cover everything with the second shortcrust and close the sides
Make a small ventilation holes on the top.
Bake for about 25 minutes or until golden brown.
Make the ketchup: mix all ingredients in a saucepan over medium heat and simmer for 5-10 minutes until desired consistency.
Allow it to set for about 10 minutes before slicing. Enjoy!
Stats
80%
Is the percentage of antibiotics sold in the United States used for livestock.
More fun facts!